After dinner, my uncle pulled out the letter J.D. Salinger sent him with his favorite book, The Landsmen by Peter Martin.
The letter was typewritten, brief and thoughtful. It read exactly like a Salinger short story, a worrisome tone from a man who wanted to make it clear that he needed his beloved copy of the book back afterward, as if he was fearful that my uncle would love it so much that he would abscond with this out-of-print, seldom-read book.
A funny observation of value.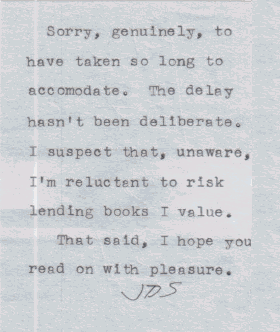 The letter J.D. Salinger gave my uncle with his favorite book
And yet, Salinger clearly knew the worth of his words. My uncle told me that he was still writing, squirreling away manuscripts to be published after his death, the money from which would continue to support his wife after he was gone. He was writing for writing's sake -- taking the best part of the act, reveling in creation, and then setting it aside so someone else could deal with the circus that ensued when he allowed them to be unleashed after he was gone.
Why the most reclusive author in the country was lending out a book to my uncle –- apparently at great sacrifice -- is pretty simple, actually. My sister-cousin's parents live up in Vermont, and last spring, we stayed at their house when I went up to make my pilgrimage to the King Arthur Flour Factory with Julie. My uncle knew Salinger by the sheer fact that they both lived in the same, loosely populated area and he was a customer of my uncle's television business.
One day, he asked Salinger about his favorite book. My uncle leans towards non-fiction, but figured that if one of the greatest American writers of all time loved a certain work of fiction, he might see the brilliance as well. That was when Salinger told my uncle that his favorite book was The Landsmen".
"Do you know it?" my uncle asked me. My husband and I are both writers and fairly well-read, especially Jewish-American literature, but we had never heard of it. "Unreadable!" my uncle announced. "I couldn't see what he loved about it when he lent me his copy."
*******
We own a lot of copies of each J.D. Salinger book: two Nine Stories, four Catcher in the Ryes, two Franny and Zooeys. I received one of my Nine Stories in an initiation ceremony for my high school literary magazine. I took another from my parents' bookshelf.
My favorite copy of Catcher in the Rye has an old maroon cover and forest green binding. Back in high school, when they passed out books in English class, you signed your name on the back cover. During my senior year, when my English teacher passed out the copies of Catcher in the Rye, I somehow ended up with the same copy my sister had read two years earlier. It was the first time this happened and it felt like kismet to be holding the same copy that she held.
When it came time to hand them back in at the end of the unit, I pretended to put a book on the pile and lied on the sign-out sheet that I had returned my copy to the school. I'd like to take a moment to apologize to my old high school -- I probably owe you at least $5.99 at the moment. But I love still having that copy of the book with our two names side-by-side.
*******
I remember exactly where I was when I read the first three pages of Catcher in the Rye. I was sitting outside the Potomac Library -- the new site because the library had moved across the street and the old building had been turned into a bank. I was in fifth grade, but I took the book out of the sixth-grade-and-above section because I heard some kids talking about how it had curse words in it. It felt like a risque move for a 10-year-old.
It took reading it many times over the years to truly get it, but I fell in love with Ally from the first read. Isn't it strange to fall in love with a character who isn't even there except for a few sentences? But you can't help who your heart chooses to love.
*******
Salinger's death is a strange bookend for me. I named my first not-to-be child after a J.D. Salinger character when I was waiting to hear if I was pregnant or miscarrying. It's the only one I named until the twins were born. Hearing about Salinger's death makes me think of her (because, in my mind, it was a girl, even though it was too early to know). It's the end of the end, as if somehow, placing Salinger in the ground and with him all his characters, he also takes those who were named after them, the ones who are no longer here regardless.
We sometimes call my son the Bananafish, mostly because life is nonsensical and there are so many other possibilities that could have played out in regards to his existence, but they didn't and so he is wonderfully here. And so, there is the child who wasn't, and the child who is, and somewhere, in between, there is a man who created characters whose names became woven through my heart and bones.
Thank you, J.D. And goodbye.
* And thank you to the Yiddish Book Center for helping me find Peter Martin's name when my uncle was on the road today and couldn't look it up for me.
Melissa writes Stirrup Queens and Lost and Found. Her book is Navigating the Land of If.
This is an article written by a member of the SheKnows Community. The SheKnows editorial team has not edited, vetted or endorsed the content of this post.
Want to join our amazing community and share your own story? Sign up here.