DWTS: Is It Over Yet?
Is it over yet?  We've made it to the Semi-Finals.  Finally!!!   A dream of mine was nearly realized Monday night – Derek almost bit it on his way down the stairs.  Bummer for me!   The final four performed two dances and, according to the hosts, it's the most closely matched semi-finals in DWTS history.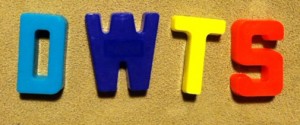 America's favorite accountant William Levy kicked things off with a tango.  This week, he sported a black headband, a blue and white headband that reminds me of my mother's dinner napkins and a skullcap beanie.
Billy Boy had the same, expressionless face throughout the dance, the look of concentration a toddler displays when first learning to tie his shoes.  In other words, not having a ton o' fun.  Len loved it and, of course, Bruno ate it up with a spoon, calling William the "Dictator of the Tango."  William also performed the samba to a Lion-King themed dance, where Cheryl's chicken cutlet/fake boob flopped out at the end.  That didn't stop him from getting a perfect score, and eliciting this statement from an appreciative Len: "I've never looked at a man's bum for so long in my life…Talk about the hunk with the junk in the trunk…"
Next up was Katherine "Naughty Bits" Jenkins, who performed a quickstep to the "Dirty Boogie" and a salsa with her partner Mark.  The salsa was a snake-charm routine that implored us to "shake your body like a belly dancer!"  To which Bruno declared ,"You unleashed the harlot!"  Carrie Ann gave the quickstep high praise, classifying it as the best dance she's ever seen on the show.  This is also the second time this season that Katherine danced in a cage, for those keeping track at home.
Donald "It's not right for a man to be like this" Driver performed a waltz and a samba to "Mr. Big Stuff."  He shared that growing up, his dad was in prison and he was homeless, living in a U-Haul under a bridge.  He and his brother sold drugs and stole cars but football, and his wife, helped him turn his life around.
Maria "Dark Horse" Menounos and Derek danced the jive to the song "Tightrope."  She also talked about how her work ethic came from observing her parents work as janitors in Boston nightclubs.  We learned that she put herself through school and she has a boyfriend.  Wait, what?  Does Derek know?  No sure who the guy is, but evidently he's very secure.  Maria's friends confided that they were nervous about her being on the show because she's klutzy.
Throughout the show, ABC kept filming Christie Brinkley for reaction, which I did not understand at all.  Guess the cameramen are used to filming cougars and don't know what to do now that "Desperate Housewives" is over.
On to the results show, where ABC made us suffer through "The Pros You Chose" for the Macy's "Design a Dance" in support of its new Brasil line.  From what I could tell, viewers could go online and vote for the pros they wanted to see dance (Tristan and Chelsie), the dance style (samba) and the song (Beyonce's "The End of Time).  OF COURSE it was the samba.  What else says Macy's Brasil line quite like the samba?  Sure as heck not the Viennese Waltz!  Am I right, ladies?  And where does the actual designing come into play?  You go, America!  Way to…um…vote?
The promo train chugged along, with Alanis Morrisette singing her brand new single "Guardian" — because it's 1996.  But you'd be wrong – she's a kinder, gentler Alanis singing about guardianship now that she's a mama married to a white rapper named SoulEye or Soul Patch or something like that.  None of that going down on Uncle Joey in a theater angsty music that defined my college years.  No siree.
Then Tom Bergeron made the announcement that we've all been waiting for.  The next season of DWTS will be an "All-Star" cast, complete with former champions, finalists, fan favorites and "controversial characters."  Go online to weigh in, if you care.  I'd personally like to see Kate Gosselin again.  That Paparazzi dance was sooo painful!
Next it was time for another plug, because it'd been five minutes.  The new movie "Rock of Ages" is coming out June 15th, and in support of it, former DWTS pro Julianne Hough dressed in a Olivia Newton John "Let's Get Physical" get-up and Mary J. Blige sang live.  Et tu, Mary?  That's "Rock of Ages," opening June 15th, wherever fine movies are played.
Country Crooner Carrie Underwood was also on hand to sing "Good Girl" from her smash album, in stores now! And catch her on the Billboard Music Awards this Sunday at 8/7 central on ABC (check your local listings) or live on tour this fall, tickets are on sale now!
So the final three will be Katherine, William, and Donald, three people I had never heard of at the start of the season.
As they rolled the credits to Maria's goodbye music (REM's "It's the End of the World (As We Know It")), I noticed that Dave Boone is listed as the show's writer.  I'd love his job.  Seriously.  Call me.
This is an article written by one of the incredible members of the SheKnows Community. The SheKnows editorial team has not edited, vetted or endorsed the content of this post.
Want to join our amazing community and share your own story? Sign up here.