And then there were six.  I mean four.  It's a double elimination week.  Damn, I hate math.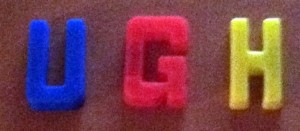 This week saw the unveiling of the "Dance Trio" or, as I like to call it, "Threesome on the Dance Floor."  The tempers flared this week, particularly amongst the male pros – Maria Menounos' partner stormed out during one of their training sessions, and later said, "Sometimes you hurt the ones you love the most."  Then Maks flipped out and had to leave before he punched something.  Both left their partners in tears.  The way Melissa Gilbert was covering for Maks made me think I was watching a Lifetime movie – "he only hurts me because he loves me."  "Leave already, Girl! He's not good for you! It's not going to get better!"  Ugh.  Speaking of Melissa Gilbert, I wonder if DWTS is contractually obligated to refer to her as "TV Icon Melissa Gilbert" every time they reference her?  Tom Bergeron was going a little overboard with it tonight.
The Disney Kid and his partner tried to garner the Grandma vote, as he mugged with his Grandmas and had them participate in his rehearsal.  It didn't help that his partner was dressed like Minnie Mouse and he was wearing kneepads for his fox trot.  Carrie Ann noted that he made his grannies proud, thereby solidifying his virgin status forever.  His grannies practically fell out their seats high-fiving over his score.
William Levy continued to make the ladies swoon, particularly when he brought his partner Cheryl flowers for her birthday.  Awww…. And he said that he didn't like rules.  Be still my heart! I couldn't understand the majority of what he said, but is the talking really necessary?  I vote no.
Round Two was the trio dance, where each couple could pick one eliminated pro or member of the DWTS troupe to join them.
Donald "I'm not ready to see Kimmel" Driver was first up with his partner Peta and Karina Smirnoff and they did a three-way jive.  I was a little concerned when he leapfrogged over both women but nobody broke a neck, so that was good.
Next up were Maria and Derek with a kid named Henry who danced the samba, Bollywood-style, to a song with the refrain "Mama do the hump."  Len didn't like it. Enough said.
Melissa Gilbert rebounded to be the tomato in a Chmerkowskiy grilled cheese sandwich (Maks and his brother Val were her partners).  They both were shirtless with suspenders, which didn't do a lot for me, actually.  I think Maks' bad attitude ruined it.  That, or I just don't find guys in suspenders attractive.
Katherine "Right back on the bike" Jenkins "ping-ponged" between Mark and Tristan (her words, not mine).  Even though one of her pant leg was caught around her ankle, she still soldiered through and received high scores.  That should increase the ratings next week.  Ok, one question.  What's the deal with Mark's weird accent?  Isn't he from Texas? Don't tell me he's caught the Madonna/Johnny Depp accent thing – you're from Michigan and Kentucky, respectively!  But I digress.
The Disney Kid danced the paso doble with his partner Chelsie and a guy named Sasha.  I find it ironic that a dude named Sasha had to give him lessons (again) on how to be more masculine.  After the dance, Len called them "two skinny fries chasing the ketchup (Chelsie)."  I'm not making this up.  I don't want to pile on the kid, but was it just my TV or is his head way too big for his body?
William and Cheryl did the paso doble with Tony Dovolani.  William wore a Zorro mask that made him look like the Hamburglar.  But I'll take some fries with that shake any day!  By the way, William's headband count for the episode stands at 2 (teal and black).
Tuesday's results show was pretty annoying, especially since DWTS chose to have Chris Brown perform.  (What – he and RiRi are friends, besides, he has a new CD to promote!)  And the Macy's Stars of Dance paid tribute to Dick Clark with original dancers from American Bandstand – who watched the professional dancers perform from the sidelines.  So, what did we learn, you ask?  We got to see Len in a Speedo, which burned my corneas.  Katherine is obsessed with her "naughty bits."  Maria has two broken ribs, two broken feet and a busted chin, and Donald "Chicken Legs" Driver likes to fall down a lot.  Altogether, a great use of my time.  Next week is the semi-finals.  Onward!
Catch up on my commentary for all episodes of DWTS at: http://www.ehilarity.com
This is an article written by a member of the SheKnows Community. The SheKnows editorial team has not edited, vetted or endorsed the content of this post.
Want to join our amazing community and share your own story? Sign up here.