DWTS All Stars Week 4: The Dancers Were Uncomfortable and Paula Abdul Was (Almost) "Straight Up" Coherent
This article was written by a member of the SheKnows Community. It has not been edited, vetted or reviewed by our editorial staff, and any opinions expressed herein are the writer's own.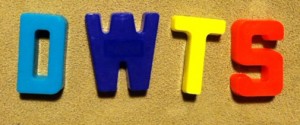 This week, Paula Abdul was a guest judge on Dancing with the Stars: All Stars.  In case you didn't know, Paula choreographed for "all the big names" from the Jacksons to ZZ Top.  Wait, what?  ZZ Top?  Like choreographing for ZZ Top would be that difficult.  My grandma could choreograph for those bearded weirdos.
The stars had to perform dances picked for them by their competitors.  Most of the professionals were pretty uncomfortable and there were some tears.
First up were Kirstie and Maks.  This week, Kirstie jumped out of a cake to perform the Charleston.  In case you're keeping track at home, the 61-year-old has also pole danced while dressed as a prostitute and performed as a groupie .  Any wager on what's next?  Score: 30/40
Bristol and Mark performed a rock 'n roll dance to "At the Hop."  It looked like something from a junior high musical as opposed to an all-star dance competition.  Mark wanted to dress like a bunny but Bristol put the kibosh on that.  She said she "didn't want to be the joke this week."  Too late.  It was "Dancing for Dummies" with lots of twirling and clapping.  Time to exit stage right and let the real dancers compete.  Score: 32/40
Sabrina and Louis attempted to evoke Studio 54 with their high-energy disco, but Sabrina's Cookie Monster getup was more Sesame than sexy.   I kept thinking about Big Bird and Mitt Romney.  Dig?  Not so much.  Score: 35.5/40
Emmitt & Cheryl had to perform bolero, which could've been a huge problem considering she's never taught it before.  She brought in four reinforcements to help them train.  Each week, I like Emmitt more – he knew they were the underdogs, having never danced bolero before, but said he'd work hard, and it paid off big time because the judges ate it up with a spoon.   Paula called Emmitt a "sexy beast," while  Bruno said Emmitt had the "fleshy flavor" – whatever that is.  Score: 36/40
Gilles and Peta danced Bollywood to "Jai Ho" from the movie "Slumdog Millionaire. " Neither of them knew Bollywood, and Peta had a bit of a meltdown during rehearsals from the stress.  Fun fact: Jai Ho, in case you didn't know, means "may victory be yours."  Did anyone else think Gilles looked like a super-hot Aladdin?  Jai Ho, indeed.  They brought home the first 10s of the night.  Score: 39.5/40
Melissa and Tony did the jitterbug.  Melissa was intimidated by gymnast Shawn Johnson and kept bringing her up during rehearsal.  They do look like brother and sister, so they should stick to the platonic dancing.  When you compare Bristol and Melissa… there's really no comparison.  Score: 37/40
Shawn and Derek flew to Iowa to meet with the U.S. women's gymnastics team for no other reason than they can.  McKayla Maroney tried to tutor Shawn on the attitude and sass.  (She's still unimpressed.)  Lifts were allowed in tonight's dance, so Shawn was in her element.  Everyone else may as well have gone home at that point.   I agreed with everything that was being said until Paula said Derek should run for President because of his choreography and drum playing.  Um, please no.  Score: 39.5/40
Apolo and Karina performed hip hop and their rehearsal was funny to watch because Karina hates it and cursed like a truck driver.  They brought in a choreographer to help and wore gold lame to distract from their discomfort.  Watching Apolo and Karina was a bit like watching the Fly Girls on "In Living Color" back in the day.  (Fun fact: Carrie Ann Inaba was a Fly Girl on the show for 3 years.)  Then the wheels fell off – Apolo's gold lame-cased mic pack flew off and Karina slipped.  Score: 34.5/40
Kelly Monaco decided not to wear anything but her black sparkly underwear for her contemporary dance number with Val. Because everyone knows it's fun to dance in your underwear.   Val was pissed that Cheryl selected contemporary dance for them and called her a bitch.  Their dance was a bit uncomfortable to watch, seeing as how it was a slow dance of domestic abuse performed to Coldplay's "Fix You."  All throughout the show, Kelly and Val did this weird hugging, passionate clinging scene leading up to their dance, which was just odd since they spent the dance fake-beating each other.  Neither of them were particularly convincing.  Kelly really seemed to feel something, though: "Val's teaching me to trust again…I'm so vulnerable."  Blech.  Oh, and apparently she broke a toe.  So there's that.  Score: 37.5/40
Next week the stars perform to their "Guilty Pleasures."  Can't wait for that!