Definition of an Apple
Though the names are catchy, when people start talking about iTunes, the Apple Store, the Mac Store, and iPhoto, people tend to get a little overwhelmed. Here's a quick definition and explanation to each of Apple's stores and popular programs.
iTunes Store
iTunes is a free application where you purchase media. Not just for the Mac computer, iTunes also runs on PC's, iPods, iPads, iPhones, and the iTouch. Through iTunes you can download new music, apps, movies, TV shows, and books. If you use the same account on multiple devices you can share your media. (Although Home Sharing works on limitless iPods and iPhones, it is limited to five authorized computers.)
In order to use all the media you purchase through iTunes, you will need the iTunes player. This free app  is where you can browse, organize, and play all your media. When you download music and videos from iTunes, they're immediately added to your iTunes library within your player. If you purchase an Apple device, iTunes and the iTunes Player come already installed. For PC users, you can download iTunes through the internet here. Though iTunes is visually pretty, it does have a bad rap for it's speed. Especially on PC's, iTunes tends to run slow and feel bloated. Overall, it is ahead of the pack by default. And you just can't beat being able to share one account with multiple devices. 
Mac App Store
If you own a Mac computer, did you know there was a different store just for your Mac? It's called the Mac App Store. Outlined much like iTunes, the Mac App Store has hundreds of apps geared towards productivity like Keynote and Pages. It's also full of cool games for your computer too. Love Angry Birds? For just $4.99 you can play this uber popular game right on your computer.
The other great thing about the Mac App Store is that it keeps track of all your applications on your computer. Since developers are constantly improving their apps, it's easy to update one app at a time or all of them at once through the Mac App Store. Since I primarily use my iMac computer at home, some of my favorite Mac apps are iPhoto, Keynote, iMovie, and  the Twitter app.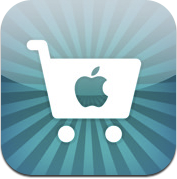 The Apple Store
The Apple Store is where you purchase all the latest Apple products like iMacs, iPods, and Apple TV. You can even avoid visiting a local phone store and just choose your iPhone and carrier right through the Apple Store. The Apple Store usually offer free shipping on products, and often has free engraving on iPods and iPads.
The Apple store is also a great place to get accessories for your iDevices. Charger cables, covers, and cases just to name a few. You can also purchase Apple Care through the Apple Store, which is basically the name for Apple extended warranty plans. All Apple devices purchased through the the Apple Store offer Apple Care. (For the iPhone it's a steep price of $99 so you just might be better off taking your chances, and paying out of pocket for any future repairs.)
iPhoto
iPhoto is a software application made by Apple exclusively for the Mac OS X operating system. It is part of the iLife suite of applications and comes bundled with every new Macintosh computer. iPhoto is designed to allow importing from digital cameras, scanners, picture CDs and the Internet. Almost all digital cameras are recognized through iPhoto when plugged into your computer, and iPhoto will allow you to import your photos.
Through iPhoto you can view your images, organize, edit, and share them with others. You can also create and purchase photo books, calendars, photo prints, and create letterpress cards through iPhoto. I have ordered both Photo Books and Letterpress Cards through iPhoto before. The prices are steep, but the quality is superb. (Huh, kind of sounds familiar with Apple doesn't it.)
iLife
iLife is a suite of software applications developed by Apple for organizing, editing, and publishing photos, movies, and music. The suite comprises five applications: iPhoto, iMovie, iDVD, GarageBand, and iWeb, all of which run on the Mac OS X operating system. iLife started in 2003, and the most recent version is iLife '11. If you have an older Mac you can purchase the applications as a set, or individually if you just want to update one or two applications. All new Mac computers come with iLife 11.
I use iMovie and iDVD religiously, so I always pay to update these. I rarely use Garage Band. iWeb is aesthetically pretty, but will never compare to the versatility of Wordpress. Dare I say, even Blogger has more options than iWeb. When choosing which applications to update, choose wisely. You might be spending more than you need to, and more often than you need to as well. If you have ever owned a PC you are well aware that most software updates are free. Welcome to the world of Apple my friends. Steep price, but hands down the best computers and software out there.
 iCloud
iCloud stores your music, photos, and documents wirelessly and pushes them to all your devices. Let's call it a hard drive in the sky. iCloud automatically and securely stores your content so it's always available to your iPhone, iPad, iPod touch, or Mac. It works with PC's too. It also can keep your email, contacts, and calendars up to date across all your devices. The best part of iCloud is that no syncing is required. iCloud is free to use, and when you sign up you get 5GB of free storage. Additional storage can be purchased for $20-$100 a year. 5GB has been plenty for my family, and we have many Apple devices. (Emphasis on the many.) There is one thing about iCloud I am not a fan of. Photo streaming at first sounded cool, but I hate the fact that I can't delete photos of specific devices without deleting them entirely. For example, I took a picture of my daughters birth certificate with my iPhone, and realized when showing family pictures to a friend on my iPad that it was showing up through iCloud. Oops. I also had about twenty pictures that my husband had taken with his phone of some tools he was selling on Craigslist. It was a pain to scroll through them to find the images I wanted to share. The latest beta version of iCloud fixes this problem, but's it's not yet available to the mass market. When it comes out, I will be turning iCloud back on.
Some of the applications that benefit from iCloud are iTunes, Photo Stream, Documents in the iCloud, Books, Calendar, Mail, Contacts, Find my iPhone, and Find my Friends. 
Hopefully this helped give you some understanding to all of the Apple stores, apps, and software differences. If your new to the Apple world, just give it some time. If you ever can't remember the name of something, just make something up and stick an "i" in front of it. Chances are you'll be right. 
Learn more about Apple products and applications at www.tech4moms.com. 
This is an article written by one of the incredible members of the SheKnows Community. The SheKnows editorial team has not edited, vetted or endorsed the content of this post.
Want to join our amazing community and share your own story? Sign up here.