Dancing with the Stars Results Show Recap: Bristol Palin's Ass Gets Its Own Brain, Plus I Call Bull----.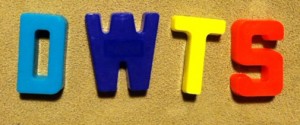 Tonight, DWTS premiered its opening and, man, it's super cheesy.  All the "stars" are attending movie premieres (Pamela Anderson) or reading the newspaper (Emmitt Smith) when they suddenly see the DWTS emblem in the sky signaling to them a la "Batman."  Then, wherever they are, they rip off their clothes to reveal – SEQUINS!  RHINESTONES!  GLITTER!  Because, really, what are they doing anyway?  Retired athletes, reality TV stars without television shows, Bristol Palin – not exactly working a 9 to 5.
Tom Bergeron spent the first hour of the results show asking the "stars" why they decided to return to the ballroom.  Yes, it was as boring as it sounds.  Just once, I'd like someone to be honest and say, "My career's kind of in the shitter right now, and the pay's pretty good.  Besides, who couldn't use a good spray tan?"
If you can't stand to watch Bristol dance, don't watch the rehearsal video because it's 10 times more obnoxious.  Mark tells Bristol to, "Shake that ass!  Let that ass go nuts, like, give that ass its own brain.  (Emphasis added.)  You have a kid and you never flirt."   Give that ass its own brain.  Lovely.
When Kelly Monaco told her partner Val that she had a work conflict because she's doing "General Hospital" he thought she actually worked in a hospital.  Like a candy striper. Like, let's just let that sink in.  He was like, "How was I supposed to know?  I'm half your age."  He also compared her to a vintage car.  Niiiiice.
Pamela Anderson says she's on the show because she "loves to perform."  We get it, we get it, Pam.  You love having men stare at you.  She made excuses that she couldn't practice as much because she's been traveling.  Last time I checked, "Baywatch" has been off the air for like, 20 years and "Barb Wire" came out in 1996.  Pamela says she's going to be on Broadway.  Whaaa? What's next?  Snooki does Sondheim?  JWoww tackles Fosse?   Maybe the world WILL end this year.
Racecar driver Helio gave Chelsie a geography lesson.  Chelsie was confounded, you speak Portuguese and you're Brazilian?  Wait, they speak Spanish in South America?  (Yep, she said that.)  You wouldn't hear that question from a brunette.  Just sayin.
Disney Kid Sabrina Bryan said she returned "for the fans."  For the fans, I call bullshit.  This is for your career.
The results finally kicked off with Tom Bergeron telling us that "billions" of people voted.  Again, I call bullshit.  I'm one person but evidently I could vote 13 times per electronic device.
Next, Pitbull came out to sing and the crowd greeted him with giant glow sticks.  Because everyone knows that you shake glow sticks at a pitbull to distract him.  Pitbull has a new album coming out in November.  (He congratulated Tom Bergeron on his Emmy win, which was kind of hilarious and undermined his street cred all at the same time.)
Tom Bergeron had a brain fart and called Kelly Monaco Kirstie and Drew Lachey Pamela.  Way to lean on that prompter, friend.
Mark Cuban of "Shark Tank" was in the audience and Tom Bergeron tells us he'll be dealing with a pitch from DWTS pros Anna and her husband on Friday's show.  Because that's fair.
Justin Bieber and his bird-arms performed, too.  His saggy pleather getup was reminiscent of Missy Elliott's garbage bag outfit from "Can't Stand the Rain."  Little girls were crying in the audience.  I was crying, too, but for other reasons.  (Did you know Cadbury came out with Halloween 'Screme Eggs?  My ass can't take this!)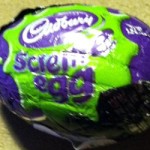 Bristol Palin, Drew Lachey and Pamela Anderson were in the bottom three.  Not surprisingly, Pam was first to get the boot.  But, hey, we'll always have….Broadway?!?  Really?
Who do you think should win?  Go home next?
This is an article written by a member of the SheKnows Community. The SheKnows editorial team has not edited, vetted or endorsed the content of this post.
Want to join our amazing community and share your own story? Sign up here.