This article was written by a member of the SheKnows Community. It has not been edited, vetted or reviewed by our editorial staff, and any opinions expressed herein are the writer's own.
I'm surprised to say that the three finalists are people who I'd never even heard of before the season started…and I still tuned in.  Because I'm a giver.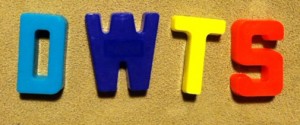 Last week when I voted for Katherine and Mark, it was Chris Harrison of the Bachelor/Bachelorette thanking me for my vote and reminding me to tune in to the new season of "The Bachelorette." This week, it was Kelly Clarkson (check out my  new show on Thursday, y'all!) who was promoting her show, Duets (check your local listings).
There were only three dances left: Judges' Choice (the judges select a dance they want the finalists to improve upon), freestyle and the final dance, which they receive the music for on Monday night and have 24 hours to learn.
Judges Choice:
William Levy's headband count stood at three this week.  He performed a cha-cha that so impressed Len that he proclaimed it the best he'd seen on 14 seasons of the show.  Bruno gave the ABC censors a bit of a heart attack when he went off about the "intoxicating human cock-tail" that is William Levy.
Katherine Jenkins wore a black velvet Amish outfit for her paso doble, complete with floor-length skirt, mock turtleneck and long sleeves with poinsettia shoulder pads.
Donald Driver performed the Argentine Tango with his partner, Peta, who wore 45 percent of a dress.  Don't get me wrong, if I had a body like that I'd wear that dress to the grocery store, car wash and to drop off the dry cleaning.  Hell, I'd even sleep in it.
Freestyle Round:
William and Cheryl were up first, and William was dressed like a sushi chef.  A sexy sushi chef, but a sushi chef nonetheless.   For having received criticism all season that his dancing was "too sexy," they were pretty hard core. Len was not having it, finding it too predictable.  "All you do is shake your bum."
Katherine, aka the "Welsh Wiggler" performed a high-energy jive, quick-step, Lindy hop and tap dance.  The judges ate it up with a spoon.
Donald surprised everyone by dancing to a country song called, "I Play Chicken With the Train" performed live by a guy named Cowboy Troy.  Peta, of course, was wearing nothing but an Astroturf bikini and cowboy hat.  Carrie Ann was so out of her mind excited she pulled a Bruno and jumped on the judges' table, while a more reserved Len noted that "chances win dances."
The Real (Two Hour) Finale
Tom Bergeron and a more properly attired Brooke Burke-Charvet noted that this was the "most competitive season ever."  (Last night she looked a bit like a broken dolly, in my opinion.)
I think Tom must get paid more because he's the one who is constantly plugging ABC.  Carson Kressley (from the Las Vegas show) was in the audience, as were Chris Harrison and Emily Maynard of the Bachelorette (airing Mondays at 8/7 central right here on ABC!)   Also on hand was a "Transformation Specialist" (read: trainer) from ABC's Extreme Makeover Weight Loss Edition, premiering June 3rd at 9/8 central.
To set the stage, Len actually compared the "Battle for the Ball" to epic battles such as Gettysburg, Bunker Hill and the Alamo.  Um, some people have actually died, not just lost a few sequins.  So no, Len, not the same thing.
To kill the two hours, ABC brought back all the celebrities to dance whatever their little hearts desired.  Sherri Shepherd danced the cha-cha to "It's Raining Men" with five guys which, apparently, makes a booty parfait (who knew?)  Watching Maks flutter down from the ceiling on a Peter Pan harness was almost worth having to sit through an extra hour of dancing and advertising.  Almost.
Martina had nine weeks to perfect her dance.  You'd think it would be flawless.  It wasn't.  And Gavin DeGraw clearly half-assed his performance.  The prop fish he used almost took out Brooke Burke-Charvet, which would have been worth the price of admission.  Gotta love live TV!
In the delusional portion of the evening, Jack Wagner, who is unwilling to accept his hunky heartthrob days are behind him, clung to his final minute of fame by once again dancing to his own song.  And Urkel did the paso doble to the theme song to "Shaft" as yet another alter ego, J White.  Yes, it was as painful to watch as it is to read.  Samuel L. Jackson must've had quite the chuckle as J White's scrawny Urkel-arms strained (but failed) to lift his partner Kim.
Disney Kid created a brand new freestyle because, really, he doesn't have anything else to do.  They were so…sweet in their Members Only sateen jackets and hi-top shoes.
Finally, it was time for the main event: the final dance and eventual crowning of the winner.  Brooke Burke-Charvet spoke with all the "stars" as they were getting ready to perform.  She asked William whether the last dance was bittersweet and he said (totally serious) it was "sweet and sour."  Awww, he's cute in small doses, but I think it would get old after awhile.  At least that's what I keep telling myself.
William's salsa was OK – it looked like he stepped on Cheryl's head, but I think everyone was so hypnotized by his ridiculous good looks that he got a pass and scored a perfect 30.   I mean, the season's over, right?  She can wear a neck brace for a few months.  Suck it up, Cheryl.
Before Katherine performed her jive, she happily exclaimed, "Jivin' makes me happy!"  That girl has rainbows shooting out of her ass.  Then she got all weepy at the prospect of not seeing everyone after the show.  Um, guys?  It's not like anyone's dying.  You can still talk and even *gasp* dance.
Last up was Donald, who performed a cha-cha, which compelled Len to note that Donald was the best footballer they've ever had on the show.
While the scores were being tabulated (really, how hard could it be?)  Gladys Knight sang, "The Way We Were."  Watching her, I think she'd be a blast to have lunch with.   But it was a little over the top for ABC to have a slo-mo montage of the finalists dancing over the past ten weeks.  It was a little too "In Memoriam" a la the Academy Awards for me.  Let's call it what it is – summer camp for celebrities who really like rhinestones.
So, what did you think of the winner?  Will he go to Disney World and reunite with the Disney Kid?  Who do you hope to see on the All-Stars cast this fall?