This article was written by a member of the SheKnows Community. It has not been edited, vetted or reviewed by our editorial staff, and any opinions expressed herein are the writer's own.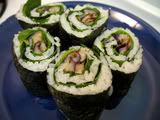 Consult any expert about dinner party ettiquette and you're likely to hear that there are three things you never talk about when you're eating: sex, money, and politics. However if you're dishing up the food on a blog, a little politics mixed in can spice it up nicely, and lately I've been seeing food bloggers talking about presidential politics everywhere I look.
At The Blog That Ate Manhattan, Pastry Politics are on the menu. In her characteristically charming style TBTAM compares the leading presidential candidates to food items, claiming Obama is like a popover while Hillary is symbolized by sourdough bread. I'm not going to give it away, but there are good reasons for each pairing, as well as interesting pastry symbols for John McCain and Ralph Nader.
Cathy of Not Eating Out in New York can't decided which of the Democratic candidates she likes best, so she's decided to make a dish for each candidate. Since Obama seems to be on a roll, she offers up Obama Rolls, (although Cathy points out that Obama's favorite food is reported to be Chicago Deep Dish Pizza.) Before Cathy has a chance to decide on her dish for Senator Clinton, Slashfood reported that Hillary's favorite food is lamb, and Slate posted an in-depth analysis of what Senator Clinton's changing food preferences might mean. Meanwhile Cathy was noticing that Hillary seemed to be under a bit of stress and decided a stiff drink was in order, leading her to create the Hillary Rodhamgranate Rickey.
Serious Eats reports that Ben and Jerry's has created a new ice cream to show their support for Obama, but there is no consensus about what the Obama Ice Cream should be called. Regarding the question about what ice creams for Hillary Clinton or John McCain should be named, there were a few interesting ideas in the comments.
Cookthink is remembering that every four years Family Circle Magazine sponsors a cookie baking contest between the candidates wives, and wonders what would Bill Clinton's cookie recipe be?
Finally, the Pizza blog Slice conducted some serious research to discover who might be the best pizza president, asking each candidate some political questions as well as their pizza preferences. After analyzing the results, Adam has come up with Slice's Endorsements for Presidential Nominees.
Now BlogHer readers, it's your turn to vote. Which one of the leading presidential candidates would you most like to have dinner with, and what food do you think would suit them best?
(BlogHer Food Editor Kalyn Denny never writes about politics on her food blog Kalyn's Kitchen, but if she ever had a chance to have dinner with Hillary Clinton she'd be more than happy to pick up the check.)