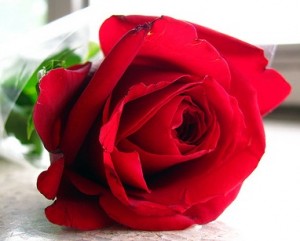 Everyone's favorite 29-year-old Texan is back in L.A. to meet a new crop of single ladies in the hopes of finding his bride.  Nice to see Sean's oompa loompa tan has faded a smidge since Emily's season.  But he's back, and he brought plenty of plaid shirts and v-neck tees with him.
Sean, whose shirtless body was featured no less than three times in the opening sequence, exclaimed,  "I want to love my woman . . . I want to be that rock," as his shirtless self climbed a rock.  So literal!  Oh Bachelor, how I love thee.
Arie, the racecar driver from Emily' season, apparently was in the neighborhood and stopped by to commiserate and give Sean some tips for his latest "adventure."  Sean practiced asking girls to accept roses with varying inflection: "Will you accept THIS rose? Will YOU accept this rose?" "Will you ACCEPT this rose?"  You get the idea.
It got a little creepy when he complimented Arie on his kissing technique and asked for pointers.  (Eye contact and use your hands to play with hair and stroke her face.  Kiss with your whole body, but just use a little tongue as a teaser.  Pay attention, guys!)
Then we got to meet the ladies in their environment.  First up was Desiree, a 26-year-old bridal stylist who is "waiting for the person who completes me . . . My missing puzzle piece.  I hope there's fireworks."  How many clichés can we cram into a sentence?  Answer: three.
Next up is Tierra, a leasing consultant who was so excited to find out that Sean was the Bachelor that she almost peed herself.  She referred to Sean as her hubby and told her dog she was bringing home "a new daddy."
26-year-old Sarah was born with one arm, which is fine, except she felt compelled to show in her video all the things she can do one-armed.  Look, she makes omelets!  And she bikes!
Ashley P. has a thing for "50 Shades of Grey" and had the BRILLIANT idea to reenact it with Sean within the first 5 seconds of their introduction.  You can pretty much tell how that's going to go.
Lesley M., 25, lives in D.C. and works for a political consulting firm but she hates nerds and politicians.  She predicts that she and Sean will be a "match made in heaven." *gag*
Kristy, is like, a 25-year-old model ("Ford is like the #1 agency in the world!") and  predicts all the girls will, like, hate her because she's, like, so beautiful.  Or obnoxious.  But mostly because she's beautiful. ("Bringing you the best of the Midwest!")  P.S. I'm pretty sure that's the slogan for an angus beef supplier.
Adopted AshLee F. is a professional organizer, whose closet is color coordinated, and her linen closet contains aisle 5 of the Container Store.  She even has separate containers for her makeup brushes.  She seems pretty tightly wound, and I predict she'll be a crier.
Then limos start arriving, and it becomes very clear that this will be an interesting evening.
Makeup consultant Jackie put on red lipstick over her gloss and left a big kiss mark on the side of Sean's cheek, saying "I wanted to make my mark on you tonight before any of the other girls."  At least she didn't pee on him.
Selma was prepared.  She witnessed the whole thing, pulled a Kleenex out of her cleavage, and wiped the lipstick off his face.
Kelly, a cruise ship entertainer, sang him a song about meeting their moms and drinking sweet tea (spoiler alert: she didn't get a rose).
Ashley P. asked him if he's read any good books lately, then proceeded to whip out a full-length tie from her cleavage, a la a magician (minus the cleavage), and announced that she's a big fan of "Fifty Shades of Grey."  Sean looked startled.  I almost snorted my wine.
Robyn tried (unsuccessfully) to do a back flip in heels on cobblestone and, shockingly, fell.
Lacey told Sean that people call her Lace so she brought him a heart-shaped doily to keep in his pocket because, evidently, that's what you do when you're name is Lacey.
If Paige the Jumbotron operator looks familiar, it's because she was one of the "fans" who competed on Bachelor Pad 3.  She goes down in history as the only Bachelor contestant to be on two shows and never get a rose.  Ouch.
Leasing consultant Tierra said she had an open heart, just like the open heart tattoo on her ring finger.  Sean was so moved, he gave her a rose, saying he hopes that it doesn't create any tension with the other girls.  Um, right.  Bullseye on her back.  Let the cattiness begin.
Fit model Amanda (one of three various types of models on the show, by the way, clearly a cross-section of America), said, "Let's get the awkward pause out of the way!" and they proceeded to stare at each other awkwardly for a few moments.  GREAT idea.
Lesley M brought a football and asked Sean to be the center while she was the quarterback.  She pretended to call plays, as an excuse to stare at his butt.
Self-described fashion model Ashley H. greeted Sean with the ever-popular, "Hi Ken, I'm Barbie."  (She didn't get a rose, either.)
24-year-old substitute teacher Lindsay went balls to the wall, wearing a wedding dress to the cocktail party.  She lifted her veil, and went in for a kiss. "I'm a prankster . . . I have balls, she said.  "Sean, showing he may have a sense of humor, said, "I hope not."
The Bachelor wouldn't be the Bachelor if there wasn't an over-hyped surprise.  A 26th woman arrived to fight for Sean's affections, and it was Kacie B., from Ben's season, who apparently had a flirty history with Sean and wanted to see if something was there.
At the cocktail party, Sean mixed things up by giving out almost a dozen roses.  The ladies couldn't keep their s(*& together.  The cattiness was out and in full force.  "Another girl got a rose."  When Desiree came back with the second rose, the girls' minds were completely blown.  "What? There are two first impression roses?" "Did he explain it to you?" Rocked. My. World. "My rose is the first impression rose, not yours."  WTF.  Personally, I think they stopped counting because they can't count that high.
Next, Sean gave Selma a rose.  The girls' heads just about exploded.  Wedding dress wearing Lindsay freaked, saying she needed more time with Sean to "make sure he got the joke."  She danced with him for their "first dance," asked him to give her a kiss, swearing she's "not contagious."  She also noted that she wished she was more sober.  "I don't think he got it," a dejected Lindsay sighed.
Right around this time, Ashley P., the lover of all things Christian Grey, started dancing with her tie and humping the wall.  She even tried to woo him away from a conversation with another woman by doing a booty dance in the corner.  When it was finally her turn, she pulled the tie out of her dress AGAIN.  "When you got dumped by Emily I called my mom and said, ' Mom, that guy is the guy I'm going to marry,'" she slurred.  Her mom loves him.  Sean, on the other hand, wasn't sold.  "She's a lot to take in. . .I brought my rape whistle in case I get in trouble."  Sean led her inside, where she promptly fell down the stairs.
One-armed Sarah started to get nervous about not getting a rose, and told Sean that she was looking forward to sharing her life with someone.  Basically, Sean had to give her the rose or he'd look like a jerk.  She totally played the one-arm card.
Sean gave out seven roses at the shortened ceremony.  Upon being shown the door, Ashley P. reflected that it was "kinda a bum-sky" and whipped the tie out (again) to show Sean one last time what he was missing out on.  Oh, and she showed her butt tattoo, which was blurred by the cameras, because a butt tattoo totally screams class and evidences good decision making skills.
What do we have to look forward to this season?  Glad you asked!
At least two trips to the hospital.  Multiple references to Sean as "the Perfect Guy."  Overuse of the words "real," "connection," and "fairy tale," perhaps in the same sentence.  A girl who "didn't come here to make friends."  Another girl who doesn't show her "true colors" to Sean.  Helicopter rides.  An ex-boyfriend.  Crying and drama.  Lots of drama.  And, of course, the return of the Bachelor Drinking Game!  What are you looking forward to this season? Any favorites?
Photo courtesy of Flickr user Blair_25 under a Creative Commons license.
This is an article written by a member of the SheKnows Community. The SheKnows editorial team has not edited, vetted or endorsed the content of this post.
Want to join our amazing community and share your own story? Sign up here.