Bachelor Pad Recap: Yes, I've Watched Bachelor Programming for Five Hours in the Past Day. Don't Judge Me.
This article was written by a member of the SheKnows Community. It has not been edited, vetted or reviewed by our editorial staff, and any opinions expressed herein are the writer's own.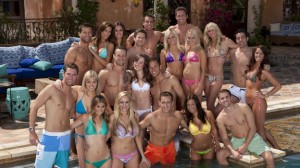 Photo courtesy of ABC
I was supposed to clean my bathroom tonight, but the train wreck that is the Bachelor Pad kept me on my couch.  Yes, 'twas the siren's song that lured me away from my toilet brush and into the ridiculousness of yet another show produced byHeidi Fleiss' brother.
For the uninitiated, the Bachelor Pad brings rejects from all seasons of the Bachelor andBachelorette shows to live under one roof for the summer, team up and compete in challenges, attempt to fall in love and/or win $250,000.  They get ahead by essentially lying and stabbing each other in the back.  The couple that wins the competition gets a rose and is safe from elimination.  They also get to go on a date.  Each week, the guys vote off the girls and vice versa.
This season the producers decided to mix it up by bringing in five "fans" to compete with the rejects.  Actually, there are six people, but there's a set of blond twins.  The twins have one vote between the two of them.  They're already sharing a brain so that seems fair.
Here are the guys:
Chris B., freshly rejected by Emily, excited to be part of the Bachelor mansion's history.  Oh, there's history, all right.  Hope you've been vaccinated.
Tony, Emily's season, went home early after crying about how much he missed his son.  He's baaack – and he brought photos!
Kalon, Emily's season, takes pride in the fact that he's best known for calling Emily's daughter "baggage."  Does push-ups on a bearskin rug for the cameras.  Rented a Porsche for his big Bachelor Pad entrance and tossed the keys to Chris Harrison.  Still a douchebag.
Reid, Jillian's season, he famously preempted Ed's proposal with a proposal of his own.  Clearly it didn't go his way.
Ed, Jillian's season, a 32-year-old frat boy who gets drunk in the first five minutes, wearing a pink blazer.  See Reid, above.
Nick, Ashley's season.  I don't remember this kid.
Ryan, DeAnna's season, I don't remember him, but apparently he was known as the 28-year-old virgin.  Now he's the 32-year-old virgin.  He doesn't drink. He's all business.
Michael Stagliano, won last season but lost his former fiancée Holly to Blake the Dentist.  He's here for the love.
SWAT, 28-year-old fan, unwinds from a hard day at the gun range in his plaid pj's sipping red wine and watching "The Bachelorette." (He's a lover, not a fighter!)
Kamikaze Dave, fan, MMA wrestler, confesses that he's gone on dates with several of the ladies of Bachelor Pad – in his head.
And the gals:
Blakeley, the former VIP cocktail waitress left Ben's season wanting a career, so now she waxes lady parts.  She waxes poetic about being reunited with Jaclyn, also from Ben's season.
Jaclyn, Ben's season, hates Blakeley, is an elitist.
Lindzi, Ben's season, is single and ready to mingle.  Has a crush on Kalon.  Ew.
Jamie, Ben's season, a/k/a the "crazy kisser" who tried to choreograph a makeout session but turned it into something really awkward.
Rachel, Ben's season.  Had a nose ring.  Not much else to say about her.
Erica R., Prince Lorenzo's season, sans tiara, she knows Kalon from the "Houston social scene."
Sarah, from Brad's first season, I don't remember her, either.
Paige, fan, likes Chris and falls for Reid the first day.  Is a chronic oversharer.  Case in point: "When I see everyone, I feel like I'm going to pee my pants.  Which has happened before."
Donna, fan, gym rat, has a crush on Michael Stagliano.
Brittany and Erica T., fans, twins, not terribly bright.  The show counts them as one vote.  Seriously, they have half a vote each.  They made fun of Erica and said Blakeley is "37 and about to hit menopause." Even Kalon's "butt chin" isn't safe from these two.  One of them is a virgin and one is not.
I've gotta say, I love the sense of entitlement the rejects have.  From minute one, they are against the newbies: "They don't deserve to be here.  We, on the other hand, deserve to be here."  Um, last time I checked, most adults have a thing called jobs that they have to like, attend, like regularly, and they can't, like, run off for a summer of sun, booze and schmaltz on ABC's dime.  Even Chris B. got into it, saying, "The fans should leave.  This is our show."  Um, okay.
Jaclyn and Sarah are afraid that the "fans" will want to sniff their underwear.  RELAX, D-List "celebrities."  It's not like you have any actual talent other than drinking and crying on camera.  Chris/SWAT brought his camera and started posing for pictures with Chris Harrison and everyone else.  Yeah, that didn't make things werd at all.  Way to blend in, SWAT.
So it seems that Chris B. has flipped a switch and now fancies himself a bit of a playboy.  He quickly pairs up with Blakeley as a teammate, but then sneaks off to make out with Jamie.  Blakeley becomes super territorial and possessive of Chris and tells Jamie to "watch her back."  Blakeley tells Chris she'd better be able to trust him, at which point Chris confesses that he is afraid of her.
The teams for the first challenge go like this:
Reid picked newbie Paige.  Get it, "read" the "page?"  Oy, this is going to be a long season!
Erica paired up with Nick
Chris and a gum-chomping Blakeley
Kalon and Donna
Sarah and Michael
Lindzi and Tony
Twins and Dave
Ed and Jaclyn – by default (Ed was drunk in the pool and Jaclyn needed a partner)
The first competition was called "Falling for Love."  Each couple gets inside a heart and is supposed to stay in it as long as possible.  As time passes, the hearts are raised and tilted.  The couple that "finds the strength in their heart and stays in love the longest wins."  (Yes, Chris Harrison actually said that. I think he died a little.)  The first couple to fall earns one vote against each of them in the elimination.
Erica and Nick fell first.  The twins and Dave won the challenge, immunity and the date.  The newbies were totally pumped for their date — to an amusement park.  It was a little sad.  "We rode a roller coaster just like Jake and Vienna! We rode a carousel just like Arie and Emily! And the ferris wheel was just like Ashley and Brad!"  Guess what? You can, too! It's called a freakin' carnival, people.  Then they "pulled a Courtney" and went skinny-dipping.
As if they hadn't already shown everyone what complete morons they are, newbie Dave told everyone that he wanted to vote out Erica R. and Nick.  Erica freaked out and acted like the mature 30-year-old that she was when she said, "Honestly, I think you're an ugly loser and, like, your plan is not going to work and you'll be leaving next week.  If I stay I'm going to make your life a living hell so enjoy that."  Wow. Her family must be so proud.
At the rose ceremony, SWAT and Paige were eliminated. A sunburned and chastened Dave realized that he screwed up and will likely be leaving next week.  SWAT wasn't too broken up about it.  He considers himself part of the "Bachelor family" and he got his picture taken with Chris Harrison – "how sweet is that?!?!?"  Answer: Very.
Only two people cried this week (Blakeley and Erica) but, according to the previews, there will be LOTS more.  What's coming up, you ask?  Tony tells everyone he's "playing for his son," the gang takes part in a painful spelling bee, Jaclyn and Ed make out, as do Kalon and Lindzi, and Michael and Rachel.  Blakeley loses her s&*#, causing Chris to note that, "being in bed with Blakeley is like being in prison."  Fun times ahead!