This article was written by a member of the SheKnows Community. It has not been edited, vetted or reviewed by our editorial staff, and any opinions expressed herein are the writer's own.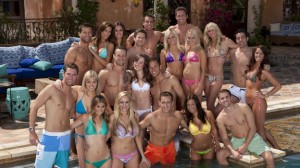 Photo courtesy of ABC
After the rose ceremony, the house was reeling over the ouster of Donna Reid (get it? Super-Fan Donna and Still-Obsessed-with-Jillian Reid? Bah-dum-dum!)
But the drama wasn't over yet!  Chris Harrison presented the group with questionnaires to complete for the next challenge, "Gameshow Mashup."  The challenge was neither a game show, nor a mash-up.  The first round asked generic questions about love and romance, while round two asked players to identify "who said that" in the house.  The guy and girl with the highest score won immunity, while the losers would get a vote against them.  Michael, who has emerged as the sole voice of reason on this show, predicted that the competition would go south pretty fast, and lots of feelings would be hurt.
The game started innocently enough: Name the city where Love Field is located and which Bahamian beauty sang "We Found Love?" (Dallas and Rihanna) and quickly devolved into who thinks Blakeley has accomplished the least in life (Nick, who hasn't exactly found the cure to cancer himself) and Erica would make the worst parent because she "eats her own hair" (according to Kalon).    Here are a few other tidbits we learned: Sarah had sex in a parking lot and Blakeley thinks Jamie is super annoying because she's all over Chris and spins around for no reason.  Jaclyn and Ed each won a rose.  Rachel and David came in last place, with a vote against them.
Chris created a love rhombus between himself, Blakeley, Jamie and Sarah.  During the competition, Blakeley freaked out because Chris was cheering for Sarah.  Blakeley confronted him and tried to get him to pinky swear they'd be partners for life and Chris wasn't about to sign up for that.  This was music to Jamie's ears, because with Blakeley out of the picture, she thought she had a chance with him.
Jaclyn asked her partner, Ed, out on their date, and Sarah's bummed for about five minutes because she hooked up with Ed and wanted him to choose her for his date.  Jaclyn and Ed went to Dodger Stadium where they butchered the national anthem worse than Roseanne Barr ever could.  Jaclyn says she's attracted to Ed because he's "bangin', hot and sensitive."  Really?  Which show is she watching?  They have a picnic (natch), and they receive a note from Chris Harrison.  Because Jaclyn picked fellow winner Ed for her date, they have to pick a guy to take a girl out on Ed's date.  Jaclyn wants to give the rose to Kalon so he can takeMarcia Brady on a date, but Ed wants to give it to his good buddy Chris, who's a hot mess.  Jaclyn and Ed share an awkward kiss, and heart-shaped fireworks explode overhead.
Meanwhile, back at the house, Jamie laid it on thick (while wearing a hot pink string bikini) with Chris in the kitchen, awkwardly flirting by repeatedly saying she'd heard he's tough to get in bed.   They went to his room to make out and, oh my god, she would NOT. SHUT. UP.  Chris said the only way to keep her quiet was to kiss her, and confided to production that he really wasn't into her.
Jaclyn and Ed gave Ed's date to Chris, and he asked Sarah out, royally pissing off Blakeley and Jamie.
And here's where it got bizarre and uncomfortable.  Chris lied to Jamie, telling her that he'd love to take her on the date but he didn't want to hurt Blakeley's feelings. Jamie's so thick that she thought he was protecting her from the wrath that is Blakeley.  Jamie waxed poetic for a good five minutes about what a mensch Chris is – how thoughtful and caring he is, how he always has her back, and it's one of the many things she loves about him.  All the while, we see Chris and Sarah on their action movie date: Sarah gives Chris a roundhouse kick to the face.  Chris and Sarah slip into a hot tub to get better "acquainted."  Sarah mounts Chris in the hot tub.  Chris and Sarah wear matching hotel bathrobes in the lobby, getting a room for the night.  (Stay classy, Bachelor!)  Oh, and just in case I didn't think he was a sleazeball from last season, he compared the three women to cars – "I traded in Blakeley and Jamie for a new model" and referred to Sarah's "new car smell."  Gross.
Back at the house, Chris Harrison stopped by unannounced (again) to give Ed a rose to give to a woman to save from elimination, and Ed gave the rose to Michael's crush, Rachel.
Jamie's oblivious streak continued when she decided that approaching Blakeley to talk about Chris would be a great idea.  Jamie is super-pumped that Blakeley is mad at Chris and wants him gone.  Jamie prattles on and on about how loyal Chris is and how much chemistry they have, all while Chris and Sarah are putting the "Do Not Disturb" sign on their door.
The next morning, Chris and Sarah walk through the door, wearing the same clothes they left in the day before.  Oops.  Jamie, queen of the fake eyelashes, finally seems to get a clue.  She really needs to read"He's Just Not That Into You" before her next "relationship" or foray into the dating world.   If he gives you the "it's not you, it's me" speech – he's just not that into you.  If he spends one night making out with you and pretends he doesn't know you the next day – he's just not that into you.  If he – oh, forget it.  Just stop being a doormat, ok?
During voting, Michael tried to talk some sense into Chris, saying he shouldn't be campaigning to eliminate his partner, because he's voting someone out of their alliance.  Chris is clearly thinking with the wrong head and fancies himself quite the puppet master.  (Silly Chris, you should leave puppetry to Jef!)  He was utterly convinced everyone would vote Blakeley out.  Blakeley, on the other hand, vowed to "donkey punch" Chris in the throat if she survives elimination.  (FYI – I just googled donkey punch, and I'm pretty sure that's not what Blakeley meant, though she is a VIP cocktail waitress, so who knows? I could be wrong.)  Turns out, playa got played.  He did not see that one coming.
The writing was on the wall for fanboy David, the last remaining non-Bachelor/Bachelorette cast member on the show.  Jamie and David left in their respective limos, in tears.   David showed what a giant tool he is by saying that leaving the show was "probably the saddest thing he'll ever do."  What. A. Moron.
Only three people cried during this episode (Jamie, Blakeley and David), a low number considering this was the slam book episode where everyone's true feelings come out.
Next week, Kalon continues flying under the radar, while Chris has a big, fat target on his back.  The challenge involves transporting a stack of teacups without breaking them (riveting!), and Chris Harrison vows to "shake things up."
Who should leave next?