This article was written by a member of the SheKnows Community. It has not been edited, vetted or reviewed by our editorial staff, and any opinions expressed herein are the writer's own.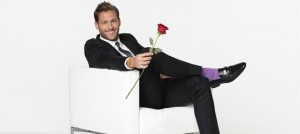 Photo courtesy of ABC
I must start this recap by saying Molly the dog is my favorite contestant of all time.  I want to make "Molly for Bachelorette" signs and campaign on her behalf.  She's the least annoying bitch on that show.
We find out in the first 30 seconds of tonight's episode that Clare got the first one-on-one date.  That's all the gals can talk about poolside, while watching Molly the spaniel doggy-paddle around the pool.  (So freakin' cute!)
Clare says that she's not the kind of girl who goes to bars or does online dating.  SO, where does she meet guys? (Aside from on television, because that's already been established.)  Juan Pablo blindfolds Clare and they speed off in his sedan (?) to a fake snow scene in L.A.  They go sledding and ice skating in what's clearly a Ralph's parking lot.  Clare thinks Juan Pablo is hilarious, though I'm not seeing the funny.  In fact, I'm not seeing much personality, period.
Clare says she hasn't felt this alive with a man in a long time.  Well, no shit. She refuses to meet them in bars or online.  Where DOES she meet them???? JP and Clare end up in the hot tub (natch) because that's what you do after sledding.  (I'm a Midwesterner, I know these things.)
Clare proceeds to give Juan Pablo a backrub while talking about her late father, which is the biggest boner-killer ever.  Clare talks about how she shut down emotionally after her father's death, became an "ice queen" and hasn't connected with anyone in a long time.
Of course, this melts Juan Pablo's heart and he gives Clare the rose and the distinct privilege of being the first woman to make out in a hot tub this season.
And, just like your favorite late-night infomercial — BUT WAIT, THERE'S MORE!  –they are serenaded by a runner-up from the X-Factor, and it's the best date Clare says she's ever been on (has she ever been on one?), and it got even better! Because it fake-snowed in L.A.!
Meanwhile, Lucy the full-time "free spirit" doesn't believe in wearing a bikini top poolside and walks around with a giant black box covering her boobs.  Anyone else wish Lucy and JP will reenact a scene from "I Love Lucy" where Juan Pablo says, "Luuuuuccccyyy! I'm homeeeee!" if only because Lucy would be forced to wear a bra.
The second one-on-one date went to Kat the medical sales rep.  They took a private plane to Salt Lake City where they dressed like extras in Olivia Newton John's "Physical" video for the Electric 5K Run, and waved glow sticks with hundreds of people in way too much neon.  Kat kept talking about the "electricity" between her and Juan Pablo, and she got the rose.
Thirteen women went on the group date (Chelsie, Christy, Cassandra, Andi, Renee, Lauren, Kelly (who's listed "dog lover" as her occupation), Alli, Chantel, Nikki, Elise, Victoria and Lucy for those keeping score), which was a fashion shoot for an animal shelter.  Lucy said her biggest fear was getting peed on, and her initial costume turned out to be a fire hydrant, which was perfect.  First grade teacher Elise, and Andi the control-freak attorney, however, were not pleased with their outfits — they had to pose naked.  Elise tried talking to the art director and explain why a first grade teacher probably shouldn't be naked on TV, and the art director (an adult male with a teal goatee) was trying to tell her that being a role model has nothing to do with being naked, and it's totally fine to do something if it's for a good cause. Elise wisely asked Lucy to swap costumes and Lucy, who was busy walking her dog around the block naked, was happy to oblige upon her return.
Victoria, the 24-year-old legal assistant, said she hoped the date wouldn't devolve into a horror show, which is, of course, exactly what happened.  While Victoria was downing champagne by the bottle, Cassandra, the 21-year-old former NBA dancer, told Juan Pablo she has a 2-year-old son, which is why she calls her mom ten times a day.  Renee and JP have stimulating conversation about their kids' handwriting. *yawn*  And Juan Pablo likes Nikki because she takes care of kids.  Borrrrringggggg.
JP likes his ladies elegant, and Victoria — ain't it.  She did, however, have the top two quotes IN BACHELOR HISTORY: "If Juan Pablo just so happens to be mine, I'm going to straddle him every day, 'cuz that's what life is about: straddling people and things."  (And here I thought the hokey pokey was what it's all about. Silly me.)  She also told nobody in particular that she gave Juan Pablo "the hymen maneuver" and saved his life during the photo shoot.  I think she meant Heimlich, but I wouldn't be surprised if she gave him the former.  I cannot wait to hear whether she's still working at a law firm after this episode airs.
And, as these things tend to go, she's party girl/everything's fine one minute, and running to the bathroom in hysterics the next.  Mommy Renee gets major props for CRAWLING UNDER THE STALL DOOR (ick factor: 10/10) to console a sobbing Victoria. Victoria tries to leave but the producers won't let her go without shoes.  They're trying to explain to her that they need to get her a plane ticket and a cab, and they can't just let her leave for her own safety.  Homegirl needs to throw up, get some coffee in her, and apologize for being crazy.  Juan Pablo joins Victoria in the ladies' room and asks if she'd like some time to pull herself together.  He wisely decides to peace out, but not before giving the rose to Kelly (and her awesome dog!), who dressed as a hairless pooch at the photo shoot.
Juan Pablo asked that the girls make sure Victoria got home OK, which I'm sure production would've done anyway, given liability laws and all.
The next day, the girls were talking about Victoria's meltdown.  Production took her to a hotel to let her sober up and filmed her meeting with Juan Pablo/dumping. She did apologize for setting off the crazy train, but it was too late.
At the cocktail party, Juan Pablo spent some time with the ladies who didn't get a group date.  Amy the reporter thought she was being cute and interviewed him using her hand as a microphone.  She spent a lot of time talking into the camera and seemed pretty pleased with herself.  (I was not sad when she was sent packing.)
Sharleen the opera singer kept the side boob under wraps tonight.  To her credit, she apologized for not being gracious when he gave her the first impression rose, claiming she was simply surprised and intimidated by the other women.
Cassandra was missing her son a lot and cried to Renee, who was Super-Mom to the rescue – AGAIN.  Juan Pablo reassured Cassandra that if he didn't see it with her or Renee, he'd send them home because they had children.  He urged Cassandra to hang in there, and he even checked her nose for boogers.  He must like her because he offered to clean her nose if that became necessary.
At the rose ceremony, Clare, Kelly and Kat already had roses, and he handed them out to: Cassandra (see?crying works sometimes!), Nikki, Andi, Elise, Sharleen (who reluctantly accepted it, with a big sigh), Renee, Danielle, Lucy, Alli, Chelsie, Lauren, and Christy.
JP sent home Amy, Chantel, and Victoria, who left after the group date.  Chantel is a catch, and I think she'll end up just fine.
The best part of the show was the interview with Kelly and Molly the dog during the credits. Dogs wearing bunny ears, New Orleans beads, sunglasses, and a Masquerade mask always make me smile.  Molly was clearly over it and started falling asleep.  (Love her!)
On Sunday, ABC will air a (SHORT) special about the lasting relationships from the Bachelor/Bachelorette franchise.  Apparently, Tristan and Ryan will renew their vows in front of their bored children ,and Sean and Catherine visit a bed and breakfast that has a "Consummation station."  Oy.
Here's tonight's episode, by the numbers:
Number of times someone:
Mentioned the word fairytale -2
Said someone was "wife material" – 1
Referred to the adventure – 5
Talked about how much he/she loves surprises – 6
Juan Pablo referred to himself as a Latin lover – 1
Talks about being vulnerable – 4