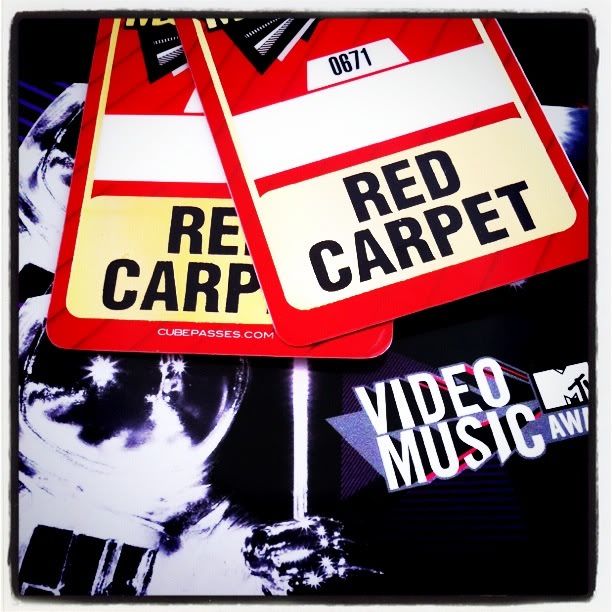 When I got home last night from the MTV VMAs the two top headlines about the show were a) that Beyonce's baby news "overshadowed" the night and b) that Maroon 5's Adam Levine "called out" MTV for hosting an awards show where they "pretend to still care about music."
While Beyonce rubbing her belly after her fantastic performance was definitely a highlight of the evening, Mr. Levine's bitter remarks were far from the tone inside the Nokia theater.  The evening was about the music, with heavy hitter performances.
I'm not much of a concert-goer, so my yearly trek to the VMA's with my husband - who receives tickets because of his ongoing professional relationship with the network - is my chance to see live performances by music's current stars.  Now, granted, there is always at least one (and sometimes more than one) artist honored that I've never heard of, and for most of the night I show my age with my general confusion.  But the opportunity to watch Lady Gaga, Kanye & Jay-Z, and Beyonce perform is not lost on me.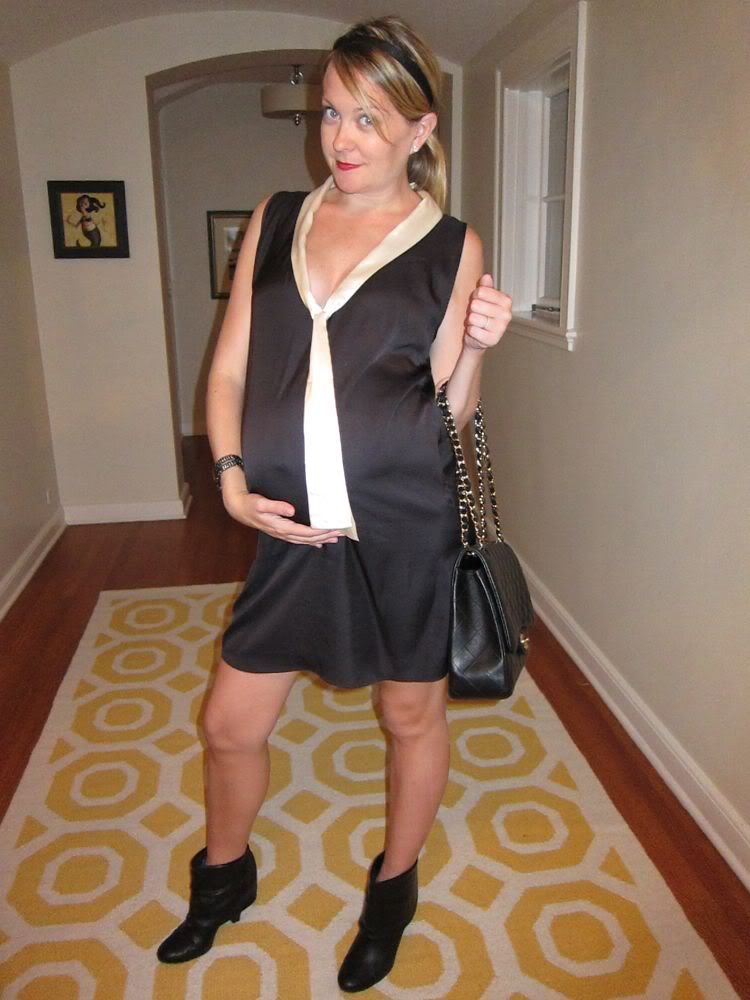 This year my 8-month pregnant belly accompanied us to the show.  Even with my slightly swollen ankles, I managed to wiggle into the lowest heels I own and a not-so-little black dress.  Red lipstick always makes me feel less bloated.  We arrived with what I thought was enough time to snap a few pictures of the red black carpet, but despite having carpet passes, security was shuttling everyone with tickets through a side door if you didn't arrive by limo. 
At last year's VMAs, my husband was doing press for his upcoming movie, so I perched myself on a corner of the carpet while he was working and people-watched to my hearts content.  This year, on no official business, we were sent through the metal detector just ahead of a woman who was barely dressed and then we were told that we had just missed the line for concessions.  I started to worry that the night wasn't shaping up as planned.
But once we took our seats and my eyes adjusted to the site of Lady Gaga dressed as a man, the rest of the show flew by.  I took particular pleasure in the kid dancers for the Britney Spears tribute, and in house artist Jessie J singing "No Scrubs" soon after Chris Brown's high-flying number.  I stood and swayed and bit my lip when Adele sang "Someone Like You" and my husband stood and pumped his fist when Lil Wayne took the stage.  So we both had our moments.  
Russell Brand's speech about the passing of Amy Winehouse was particularly powerful.  It's touchy subject matter, and I think he handled her genius with the appropriate amount of directness and respect.  My husband couldn't stop talking about Bruno Mars' tribute song to her, and was one of his favorites from the night.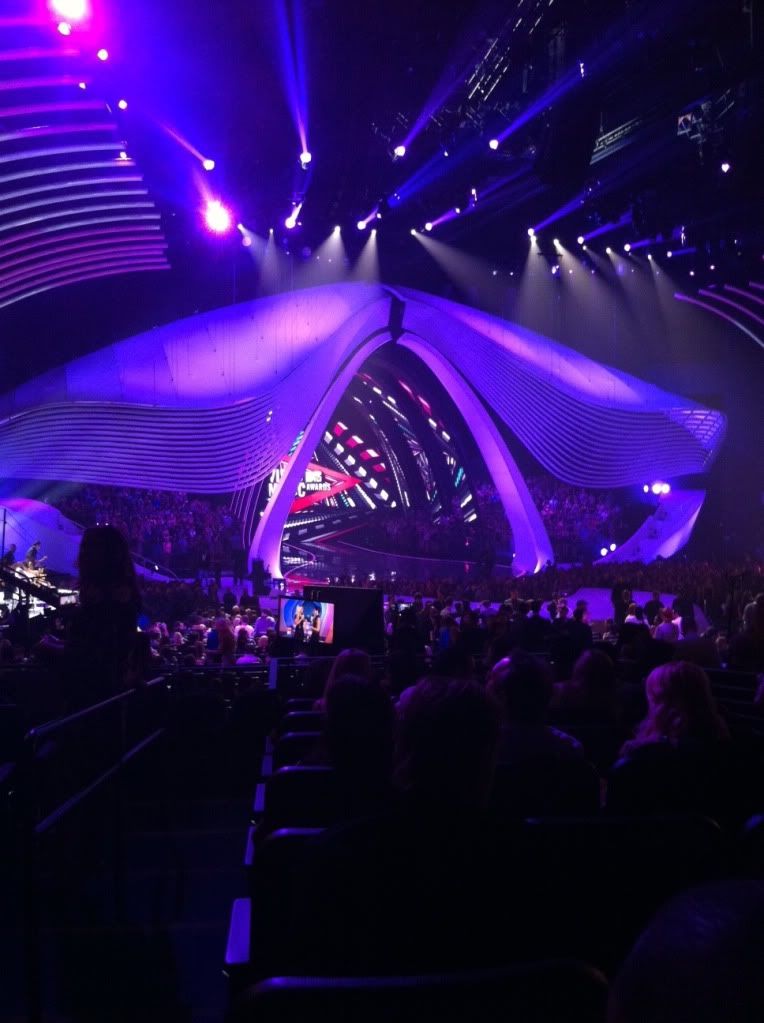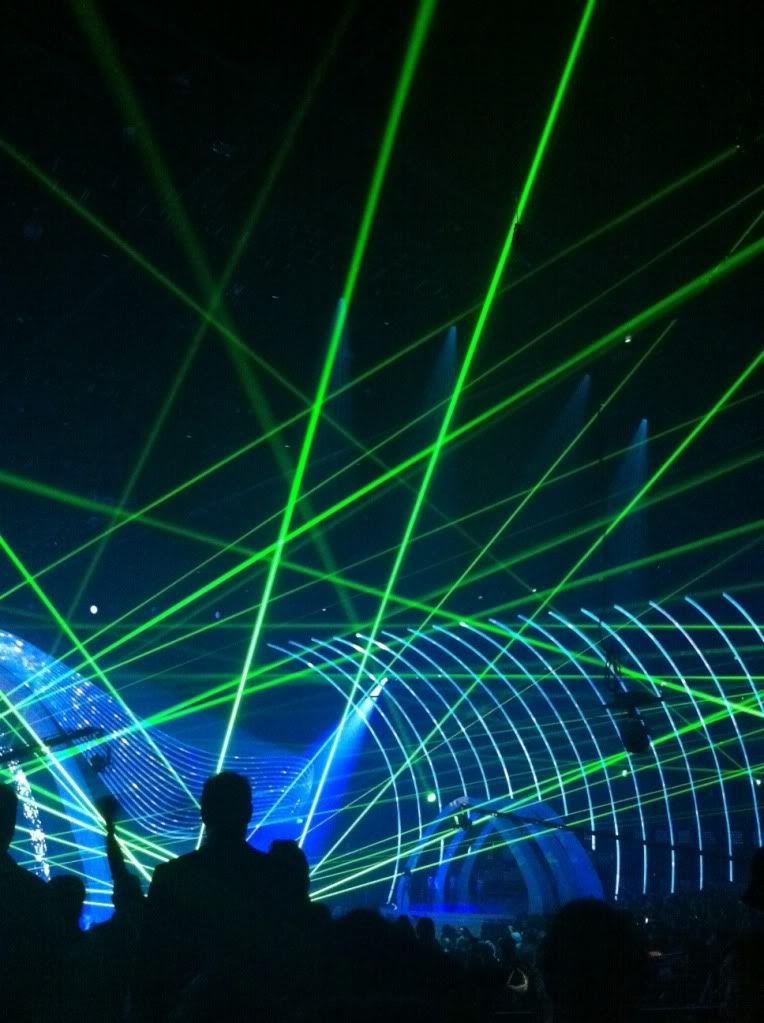 Despite some of the silliness that is always present at the VMAs - the yellow block atop Katy Perry's head for instance - I think it's fun and interesting that so many musical acts are going so over the top lately.  I might have preferred that Gaga drop the drag routine after her initial performance, but you have to give it to her for commitment.  And it's not that I don't understand Mr. Levine's frustration with the lack of music on the Music Television network, but a night of music even once a year is something to be celebrated.    
There was a group of young twenty-something girls sitting directly behind me.  Periodically one would say something like, "This is SO awesome."  And I, in my thirty-something, married and pregnant state, have to agree.   
*All images courtesy of Laura Tremaine*
_________________________________________________________________
Laura Tremaine is a Hollywood Housewife.  No, really.
This is an article written by one of the incredible members of the SheKnows Community. The SheKnows editorial team has not edited, vetted or endorsed the content of this post.
Want to join our amazing community and share your own story? Sign up here.