This article was written by a member of the SheKnows Community. It has not been edited, vetted or reviewed by our editorial staff, and any opinions expressed herein are the writer's own.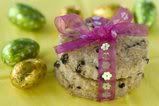 For traditional family feasts, consider the cooking trinity: Thanksgiving, Christmas and Easter. This year, Easter falls on March 23, unusually early. How early? Well, Easter hasn't been this early since 1913 and it won't be again until the year 2228. (What? How do we even say that year?) March 22 is the very earliest day on which Easter can fall, the last time in 1818 and not again until 2285.
So many dates got your head spinning? Mine too. Just know this: this is the year -- and more to the point, the week -- to treat ourselves and our families to traditional Easter dishes, breads, desserts, and more. We've got between now and Easter Sunday, so there's plenty of time to experiment with recipes from all across the globe.
Sweets
Baking for Britain ~ Sedgmoor Easter Cakes, presented in a bundle of three biscuits to represent the Holy Trinity (that's Anna's delightful photo, too)
The Intrepid Sentimentalist ~ Mämmi in Finnish, Memma in Swedish
Nami-Nami ~ Easter Pashka, traditional in Estonia, Finland, other Nordic countries
Once Upon a Tart ~ Swiss Easter Tart, made with rice to symbolize fertility
Food Blogga ~ Traditional Italian Easter Rice Pie, much similar to the Swiss version, no surprise since Italy and Switzerland share borders
Breads
Cream Puffs in Venice ~ My Mother's Easter Bread, the centrepiece of Easter at Ivonne's grandmother's house in the Little Italy of Toronto, now the defining symbol of Easter in her own home
Baking Bites ~ Easter Egg Challah, a real show-stopper
Rose's Recipes ~ King Arthur's Easter Bread, with colored eggs tucked in
The Cooked & the Raw ~ Rosemary & Sultana Bread, a vegan version of the Italian 'pan di ramerino'
In Love with Lisbon ~ Portugese Easter Bread
Savory
Stickey Gooey Creamy Chewy ~ Pizza Rustica, a traditional Italian Easter pie with a ricotta base filled with dried meats and cheeses
Serious Eats ~ Roman Easter Soup
The Joy of Soup ~ Easter Soups, Polish, Greek and Neopolitan
What Are the Traditional Easter Foods in Your Family?
Leave a comment, a recipe, or -- or, if you're a blogger -- leave a quick description and a link to your post.
How to Find Food Blog Recipes
Ever wonder how to find the very best recipes from the very best food blogs? Just bookmark the brand-new , the special search engine designed for and by, well, food bloggers.
On Good Friday, BlogHer food editor Alanna Kellogg and her sister will make her family's traditional hot cross buns.