The annual October dilemma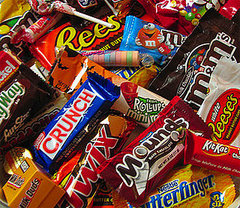 The question is not who will win the World Series.  It's not who will win the election.  It's Halloween.  All the Halloween candy is on sale, and if I buy it in advance, I will eat it in advance. Meanwhile the giant Tupperware bowl that holds the treats on the bench by the door, sits empty and forlorn. And coupons which will save me ALMOST HALF* the cost of my candy purchases, are set to expire before Halloween. 
What to do, what to do, what to do….
* Note:  The upper case letters may be a cry for help.
This is an article written by one of the incredible members of the SheKnows Community. The SheKnows editorial team has not edited, vetted or endorsed the content of this post.
Want to join our amazing community and share your own story? Sign up here.