This article was written by a member of the SheKnows Community. It has not been edited, vetted or reviewed by our editorial staff, and any opinions expressed herein are the writer's own.
Recently, Kyran sent me what has to be the Best Style Question EVER, primarily because her email was so eloquent and funny. She is asking for help for her husband, because, as she told him, "there have to be wardrobe options out there that are no-brainers for you and will not cause neighbors and potential clients to hand you a rake."
Here is a little excerpt:
Then one day, the boy left corporate advertising and came home to work freelance. He worked very hard, and the enterprise wobbled a while, then prospered. He worked out of an office in the house, during hours of his choosing, and only occasionally did he have to meet with actual live people. The boy loved his work and would eagerly sit down to his Macintosh computer in the mornings, still in his bathrobe and comfy slippers.

Gradually, the bathrobe began to stay on later and later. As time wore on, the faded & baggy levis, the x-large ts (worn untucked), and worn-in converse sneakers began to seem rather formal. One day the boy's wife saw him coming down the street toward her, and commented that he looked rather more like someone going door to door to do yardwork, than someone who worked in the field of design.

The boy rolled his eyes.

The wife was in a bind. She did not care to be a controlling wife who dressed her husband. She respected his desire to be comfortable and "himself", and to expend as little energy as possible into thinking about what to wear. At the same time, she felt that crewneck sweatshirts and jeans with the knees ripped out did not do justice to the brilliant light that was her husband.

To complicate matters, the boy was a southern man, and did not cotton to be told what to do. "For god's sake, grow up," would not work as a call to change. She would have to be crafty.
Kyran will be posting her full letter at Notes to Self; you really need to read it. And the rest of her blog, too.
Kyran has been culling her husband's wardrobe and throwing things in the trash, in a sort of kinder, gentler What Not to Wear scenario. But she has now tossed so many things that he is running out of clothes and needs to do some shopping.
The goal is not to get Kyran's husband into a suit but to move him back to the days when he wore clothes that did not make him look like a lawn guy, which Kyran describes as "levis and t-shirts and tennies everyday." That is a perfectly appropriate look for a self-employed designer who works from home.
Lawn guy, however, is not.
What should he buy?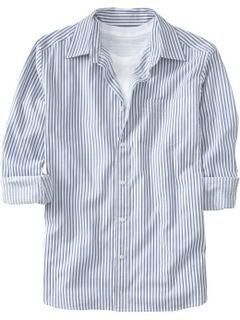 Banker striped shirt, Old Navy, $24.50
Jeans. Of course. Because he's a creative type who works from home, jeans are fine for everyday AS LONG AS they fit properly (no sagging, please) and do not have holes in them. I would suggest a dark wash, as this is easier to dress up a bit than anything lighter. If he complains about the new jeans being "stiff" (as my husband is wont to do) Kyran can launder them with some fabric softener for the first few washes. Or she can tell him to suck it up and stop complaining. Which is usually what I do.
I am all heart, I know.
Chinos. You know, khakis. Yes, really! My husband was a diehard jeans guy for YEARS, until one time when we were traveling, he was compelled to wear his khakis to fly. And at the end of the day he said to me, "Those are SO MUCH MORE COMFORTABLE than jeans." Which of course I had been telling him for years. Soft cotton khakis are the perfect casual pants -- they still look great, but they're not binding or stiff. Go for a flat front, if you can, for the slimmest line (my husband still insists on pleats, if you must know, which makes me insane, but at least he's wearing nice pants).
Tees. I'm really going out on a limb here, aren't I? But there is nothing wrong with a really great tee, AS LONG AS it fits. Kyran describes her husband this way: "Our hero is 44 years old, about 5'10. While he grows only more handsome and sexy with the years, his midriff is somewhat more convex than it used to be. Which is possibly the reason behind the x-large t-shirts worn untucked." I am sympathetic to the urge to cover the parts of us that are no longer as slim and trim as they once were, but tenting himself in a baggy tee isn't doing anything for his professional image (see above re: lawn guy). Instead, he wants to look for tees that fit through the shoulders AND the waist, without bagging but also without being too tight. I know there is such a tee out there; I promise that it can be found. Probably someplace like Old Navy, even.
If he doesn't want to tuck, then he needs to look for tees that hit at the hip, and that are slimmer in the body. He wants to be sure that when he sits down, he doesn't suddenly look like a plumber (if you get my drift) but he also doesn't want tees that hang to his knees.
Polo shirts. Not necessarily the ones with the actual little polo player man on them, but knit shirts with a collar, in a soft cotton. These are great to wear untucked (as long as they FIT PROPERLY) because they tend to have a finished hem that looks a little nicer than a plain old tee. For a funky, creative look, layer a polo over a long sleeved tee. Do NOT turn the collar up.
Oxford shirts. You know the kind, not a dress shirt, but a cotton oxford that buttons up the front and has a collar. He can wear them over a tee (buttoned most of the way up, please) or under a sweater, and he can leave them UNTUCKED if he likes, as long as (say it with me) they FIT RIGHT. Look for soft, machine-washable cotton; tumble dry and then hang while they're still warm, for minimum wrinking. Do not iron -- that's not the look we're going for. (And I like Kyran and don't want to make her laundry any more complicated than it already is.)
Cotton sweaters. Nothing fancy, no Bill Cosby patterns, just a plain cotton crew neck sweater, something to replace the sweatshirts. Kyran's husband can look for sweaters that are shaped like tees, which is the most flattering line for everyone (nothing tight at the bottom, please). Kyran wants to find pieces that are machine washable, of course, and so basic cotton is good here. A fleece pullover is also a good option, as long as it FITS (there's that word again), but a cotton sweater is a good alternative for days when working at home means LEAVING home and seeing people.
Stores like Old Navy are a treasure trove of men's casual basics, for not a lot of money. But here is the part that may very well cause the most strife: Kyran's husband will need to TRY THINGS ON. Even the tees and polos. Men hate this. (So do many women, really.) But it is important, particularly since the key here is to find pieces that are comfortable AND that fit properly. I suspect that Kyran's husband has stuck with his lawn guy wardrobe for so long because he doesn't want to go through the hassle of trying things on. But it is time and he needs to do it.
I have no good suggestions for how Kyran can work that, but she is smart and will figure it out. For more men's fashion tips, she (and you!) can check out See Jack Shop (from the brilliant Budget Fashionista) and Manolo for the Men (because Manolo loves more than just the shoes). And of course The Sartorialist is an excellent source of real-life inspiration.
Susan Wagner writes about fashion at Friday Style and The Working Closet and Fashion Find. Send her your style questions at fridaystyle.susan@gmail.com.