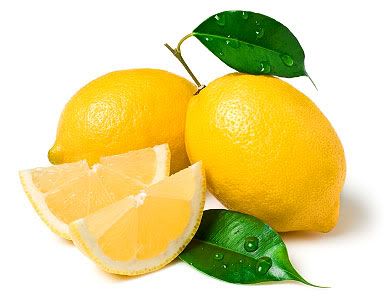 Lemons are great for so many edible goodies, but lemons can be used for so much more. As someone with an autoimmune disease and sensitive skin, I am always looking for holistic and natural approaches to my beauty regimen and lemons can really be a godsend if your skin is chemically sensitive. If you can't find lemons, you can use limes or even pineapple.
The thing I love about lemons is the fact that they are affordable, they smell amazing and they can be used to exfoliate, clean pores, battle wrinkles, improve skin elasticity, brighten and even skin tone, hydrate, and tone.
Exfoliation: Since lemons are packed with vitamin C and citric acid, they really are ideal for exfoliation. It's more gentle than using an apricot or sugar scrub and it really gets the job done. The two easiest ways to use lemon as an exfoliate are as followed:
1. Cut a lemon into fourths and use one piece to massage over your face for 2-3 minutes, then rinse face with lukewarm water.
2. Cut the lemon in half and squeeze the juice into a cup. Grab a cotton ball and dip it in the lemon juice and then apply to your face. Leave the lemon juice on your face for 5-10 minutes and then rinse with lukewarm water.
Deep Pore Cleansing: Another added benefit of using lemons in your beauty regimen is that they can really clear out those pores. If you have oily skin, the astringency of lemons is great for breaking down that oil, which leads to clogged pores and blackheads. To use as a cleanser, you can use the lemon as you would for exfoliation or you could dilute the lemon juice with a little water and dab over problem areas and leave on overnight to help clear up your problem areas.
Wrinkles and Skin Elasticity: Lemons battle wrinkles and help skin elasticity? They sure do. The nutrients found in lemons are plentiful. They are a good source for vitamin C, vitamin B6, potassium, magnesium and folic acid. The nutrients found in lemons not only help stimulate the formation of collagen but they, also, detoxify, repair and renew your skin. To use lemons as a wrinkle treatment, whisk one large egg white, add a teaspoon of lemon juice, a teaspoon of rum or brandy, a teaspoon of cucumber juice and a teaspoon of honey into a bowl. Mix really well and then apply to your face. Let it harden and then rinse with lukewarm water.
Hydration and Toning: In addition to being a wonderful astringent and cleanser, lemons can also help to hydrate your skin. People with enlarged pores are always looking for ways to minimize them and there is some truth in using lemons to help shrink your pores and regain that youthful glow that is lacking in tired and overexposed skin. One of the more popular methods of lemon use in hydrating and toning is to use a mixture that consists of the following:
Add 1/4 cup of black tea in a water bottle or cup, squeeze in half a lemon's worth of juice, add a few cucumber slices. Shake well and let sit for 5 minutes. With a cotton ball, apply the mixture to your face and massage with cotton ball for 1-2 minutes and then rinse face with cold water.
So, there you have it. When Life gives you lemons, prepare to get beautiful. :)
This is an article written by a member of the SheKnows Community. The SheKnows editorial team has not edited, vetted or endorsed the content of this post.
Want to join our amazing community and share your own story? Sign up here.