I truly believe that the Casual Friday dress code has been the downfall of Western culture, or at least of common-sensical style. It's not so much the ubiquitous yoga pants that get me, it's our complete inability to dress for an occasion. Shorts at the office? No. Sweats in a place of worship? No! A t-shirt at any celebratory event that starts after 5:00 and comes with an embossed invitation? Absolutely not.
The problem with all casual all the time is that we default to casual all the time, even when it is outrageously inappropriate -- at a wedding, say, or a bar mitzvah or anniversary party. Unless the invitation specifically calls for casual wear, you need to get dressed. And by "get dressed" I mean "get dressed up because it's a party for heaven's sake!"
Here's an example for you: My children's school is celebrating it's 50th anniversary this year with a big auction event. The dress code for this is "black tie optional," which is lovely because it acknowledges both that this is a dressy, grown-ups-only event and that not everyone attending may have a tux or evening gown. The dilemma, it seems, is that not everyone knows what "black tie optional" signifies, which means that not everyone knows what to wear.
"Black tie optional" is code for "this is a fancy fancy evening, but since we want you to make a donation to the school, we're not insisting that you rent a tux/buy a long gown." What do you wear to a function where the default outfit is optional? You have several choices. For the men, a suit is perfectly appropriate, preferably a dark suit, with a tie. For the ladies, a cocktail dress is a nice alternative -- not a day dress with a bling-y necklace, but a genuine cocktail dress, something chic and dressy and perhaps a little bit impractical (after all, a tuxedo isn't exactly practical, why should your dress be?).
If you and your date decide to opt in for the black tie part, you can still go with a cocktail dress, but make sure that your level of dressiness matches his -- bling up your dress with jewelry or fancy shoes. Or go all out and wear a long dress -- look for something in a shape that is similar to what you might choose in a shorter dress, as this will be more flattering. And while black is always appropriate after 5:00, consider alternatives like navy or chocolate brown. The dress pictured here is navy silk, for example. (Vera Wang Lavender Label evening gown, $427 at Bluefly)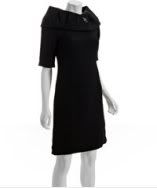 Not a gown girl? A cocktail dress should be dressier than a day dress; it should not easily transition from the office to a fancy after-five soiree. But again, look for silhouettes that you would wear for day, rather than going with something completely new. I love this Badgley Mischka dress because it's both streamlined and over the top at the same time. The sleek silhouette will flatter any number of shapes and sizes, while the fold-over collar adds drama. This is also a navy dress, in a lightweight silk, which makes it both elegant and easy to wear. (Badgley Mischka Platinum Label cocktail dress, $390 at Bluefly)
So do you have to spend $400 to be appropriately attired for after-five events? Of course not. Department stores have sales on various designer labels all the time, and consignment is a great source for evening gowns. But if you find yourself looking at a social calendar that includes more than one opportunity to wear a beautiful dress, invest in one, at whatever price point you can afford. Bring some elegance back to evening events.
A cautionary tale about last-minute cocktail attire from The Good Girl Gone Blog: Remember the underpinnings, please.
Still want to make your cocktail dress work for day and evening? Amy Salinger at The Wedding Bee tells you how.
And this has nothing to do with cocktail attire, but it's a funny recap of this week's Project Runway: "Hey! no cocktails for pregs ladies!"
Susan Wagner writes about style at The Working Closet and about chic suburban living at Friday Playdate. She owns two perfect LBS, which is good because otherwise she might buy that Badgley Mischka dress.

This is an article written by a member of the SheKnows Community. The SheKnows editorial team has not edited, vetted or endorsed the content of this post.
Want to join our amazing community and share your own story? Sign up here.