This is a compensated review from BlogHer and Erno Laszlo.

Everybody knows that Marilyn Monroe loved Chanel No 5, but do you know what her favorite beauty brand was? We do, and we got to try it out for ourselves!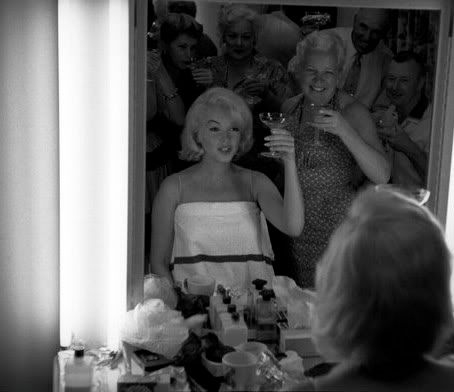 (Image Credit: Marilyn Monroe Collection)
Those bottles on her dressing room table are telltale signs that she was a client of the legendary Dr. Erno Laszlo, whose exclusive clientele also included Jackie Kennedy, Audrey Hepburn and Greta Garbo, but it is Marilyn who is forever tied to brand because bottles of his beauty potions were found on her bedside table after her death.
When Erno Lazslo invited me to try their products, I knew exactly what I wanted: To experience the classic Laszlo nighttime ritual for myself. Hey, if it was good enough for Marilyn, it's good enough for me!
I was a bit surprised when the products arrived because, well, just look at how many there are!
I was instructed to use every single one of these products every night, and the directions were very precise. Here are the products in my ritual, and the directions for use:
1.    Active pHelityl Oil - Rub a dime-sized amount on your face.
2.    Sea Mud Soap - I was most excited to try the black soap. Fill up your sink with comfortably hot water and dip the soap in it. Then you rub the bar over your face and neck (over the pHelityl Oil) and rub the lather in. Then you splash away with the water from the sink, exactly 20 times. Then you drain the sink, and splash your face with hot running water ten more times. Yes, the instructions are that precise, and yes, I followed them because I'm a rule follower.   
3.    Light Controlling Lotion  - Blot dry face and apply this with a cotton ball. It's basically a toner (remember Sea Breeze?) but it's gentle and smells nice.    
4.    pHelityl Cream  - This is the cream that was on Marilyn's nightstand, and I've become a fan as well. It's light and my skin absorbs it right away.    
5.    Regular Controlling Lotion - I was very sceptical about this step -- I think it's another toner with talc in it (you have to shake it before applying it with a cotton ball) -- but I SWEAR it gave my face a glamorous soft-focus look, almost like if I was wearing foundation to bed. My husband noted how polished I looked after washing my face, and if that's not retro-glamorous I don't know what is. 
As you can see, the Laszlo ritual is DEFINITELY old-school. There is no
room for convenience or two-in-one products. It's not for the lazy, and to be honest I tend to be lazy. BUT I was curious to see if all the work was worth it, so I stuck to it for a month.
My verdict? I'm a convert, even if I don't quite look as ravishing as Marilyn and Audrey. The whole ritual takes all of 3 minutes, and my skin looks perfectly healthy. It feels deliciously clean, and I swear that the whole ritual is relaxing and helping me sleep better. No wonder Marilyn was a fan!
Roxanna blogs about all her obsessions at Miguelina.