This article was written by a member of the SheKnows Community. It has not been edited, vetted or reviewed by our editorial staff, and any opinions expressed herein are the writer's own.
Way back in fourth grade (no, I'm not going to do the math for you, but you can safely assume it was back in the late '80s, early '90s days of fashion), I got my first pair of
eyeglasses
. Now, I didn't
really
need them, but I was a huge bookworm and constantly reading, often with the book just inches from my nose (you know, in true nerdy style), and, more importantly, I already had a real thing for accessories. I might have even exaggerated some of my answers at the eye doctor in order to guarantee I left there with a spiffy set of frames.
My glasses were a total novelty to me -- I wore them occasionally, but as I got into high school and college, despite the fact that I was reading more than ever, I wore them less and less. Still, I loved the idea of wearing them when it was convenient. Hooray for accessories!
Just a few years ago, I was informed that I might want to wear them at night, when driving. I nodded politely, made all the right noises, and then promptly ignored that advice. I could still totally see; I didn't need them, you know?
Aaaand, fast forward to a couple of months ago, when I learned that, in addition to the ever increasing nearsightedness I was experiencing, I had also developed astigmatism. Oh, you know that bit about wearing glasses while driving at night? I could forget that, because now, I should be wearing them all. the. time. Not that I can't see without them, but because I'll be in much better shape in the years to come if I wear them all the time now.
After a few moments of slight panic, I decided that this wasn't so bad. All I needed was some super cute frames. Because I tend to love bright, bold colors in general, I wanted a pair that would be fun and a little funky, but wouldn't clash too loudly with whatever I was wearing. I decided on these: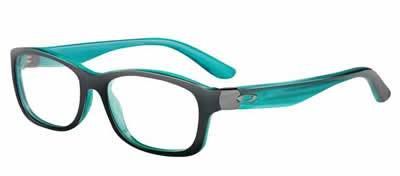 Convey, photo courtesy of Oakley.com
I immediately dug the turquoise color, which is very flattering to my skin tone and hair color, but also liked that while they were a little edgy, the color on the very front was subtle enough to go along with almost anything I'd wear. And, truth be told, I've gotten totally accustomed to them, and miss them when they're not on my face. CRAZY, I know.
In fact, I've enjoyed this new semi-permanent accessory so much that I started looking around at other fun, bright, spring-appropriate frames on the market. I mean, if I'm going to wear glasses all the time, I might want a few options, right?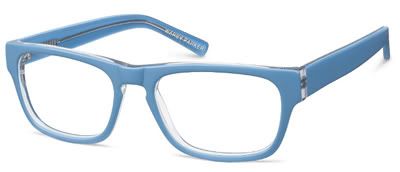 Roosevelt, Photo courtesy of WarbyParker.com
The light, bright blue of these glasses is sweet and cheerful, but the thicker, slightly masculine frame makes them a little more substantial. One of my good friends swears by this site -- not only does Warby Parker give great tips on finding the right shape for your face, but they have a home try-on system that just can't be beat.

Prada, Photo courtesy of Lenscrafters.com
For something a little more subtle but still with a pop of color, these prescription specs are smart and stylish with a nod to the recent ombre trend. Plus, c'mon. How many other Prada accessories are you going to rock on a daily basis? (Wait, don't answer, because more than likely, your answer is, "Way more than you, Kristen!" and then I'll just feel sad.)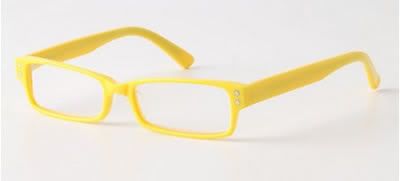 All Angles Readers, Photo courtesy of anthropologie.com
No prescription? No problem! Anthropologie has some rad little readers, and you can't help but love these sunny yellow frames, right? And don't be shy about shopping your neighborhood pharmacy -- I'm kind of wishing these Foster Grant in purple-tinged tortoiseshell glasses came in my prescription.
And, since we're heading into summer, let's talk a moment about prescription sunglasses -- something I know a little about because my husband actually works in this arena. Some frames are better suited to housing than others -- a wrapped style is going to be more difficult in general. The stronger the prescription, the less wrap it can take.
Lenscrafters and Pearle Vision are a couple of large chains that, for most styles, can provide a fast turnaround (which means you can be reading your magazine on the beach faster -- hooray!), but many local optical dealers have good selections as well. If you're looking for a performance prescription (i.e. for sports or something special), you may have to go through the sunglass company itself.
Now, two questions for you all. First, if you wear glasses, did you opt for something bright and bold or did you look for something that's super subtle? And, second, for the love of pete, how often do you clean the lenses? I'm about to wear a hole in my cleaning cloth over here, and I can't be the only one!
When not daring you to call her four eyes over here, Kristen Seymour can be found writing at Jeez-o-petes or on Twitter.