Despite the fact that I'm still shivering in a wool sweater (strike one), wearing winter boots (strike two) and wringing a "wintry mix" out of my windswept hair (strike three!), it seems that spring is here. ALLEGEDLY.
One of my favorite things about spring is nerdishly sifting through my makeup steamer trunk bag, and getting rid of my heavy winter creams and products to make way for the light, dewy lotions and mists of spring. 
Here are a few of my absolute spring favorites that I can't wait to use again, once the temperature actually climbs above 50, and that warm, glowing orb in the sky that I can only vaguely recall returns.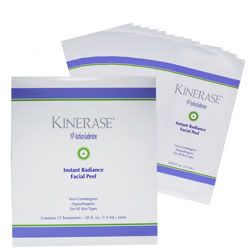 I don't know about you, but my skin looks SO VERY DULL at the end of winter. I plan on remedying this with Kinerase Instant Radiance Facial Peel ($75). Yes, it IS $75, but I imagine it's worth every penny. I say "imagine" because a Sephora helper once made the mistake of giving me a sample, and I was bowled over by how radiant and even my skin looked. So, now I'm addicted, but don't want to spend $75 on a facial peel, so whenever I go in, I do this elaborate routine of "oh, my friend told me about this...do you have any samples?" only I'm a terrible actress, so I suspect they may be on to me, and my days of free pricey samples will soon come to an end.
On the other end of the price scale is BiorePore Minimizing Lightweight Moisturizer with SPF 15 ($10). I began using it last sumer, and love, love, LOVED it. I have a bit of an obsession with my pores, nongreasy moisturizers, and products with SPF that DON'T smell like they have SPF. This moisturizer is the embodiment of all three, "with a combination of soft-focus
powder and natural extracts that noticeably improves the appearance of
pores."
Once your skin is in working order, you will note that you bear an unsettling resemblance to Casper the Friendly Ghost. Well, maybe YOU don't, but I do. Stop showing off, you.
Ahem.
Anyway, my go-to fix for this is a combination of Benefit's Dallas bronzer powder, which I've mentioned here before, and Lancome's Flash Bronzer Oil-Free Tinted Self-Tanning Lotion.The tint is vital for Hopeless Self-Tanning Persons, such as myself, and perhaps even more importantly, the color is juuuust enough so that you look vaguely alive, but not so alarmingly tan that anyone will mistake you for a Rock of Love Bus contestant.What's more, I found that thisproduct doesn't have that telltale "HIHIHI!IJUSTAPPLIEDSELF-TANNER!!11!" aroma.
"My "wish list" for spring includes this little baby, and a tinted moisturizer that doesn't make me look like I smeared my face with Cheez Wiz. (Do you have one? SPILL IT!)  How about you?
Metalia also blogs here. 
This is an article written by one of the incredible members of the SheKnows Community. The SheKnows editorial team has not edited, vetted or endorsed the content of this post.
Want to join our amazing community and share your own story? Sign up here.