Your personal jewelry has been acquired over your lifetime.  It could be something as sentimental as your first gold chain with religious medallion, your childhood charm bracelet, diamond engagement ring or inherited antique jewelry just to name a few.  Nonetheless, these pieces not only have sentimental worth, but also significant monetary value.
Over the years, designs and styles change, older pieces dating to the Victorian and Art Deco periods could be difficult to replace, especially if it was a very unique piece.
Taking precautions to minimize loss or theft of your jewelry is very important.
Over the years, I have heard so many people share similar stories, namely that they have so much jewelry, but that they have it put away in safety deposit boxes.  Yes that is an excellent place for safe-keeping, but jewelry is meant to be worn and enjoyed to its full glory and not to be hidden.
My one customer loves her "bling-bling" so much she refers to herself as a year-round decorated Christmas tree.  She certainly sparkles with her beautiful collections.
I wish to share with you some suggestions and ideas for safeguarding your jewels while you travel, insurance, hiding places, and safes.
There are two groups of travelers:  the minimalist who packs just a few key pieces and then there is the opposite who brings everything.  This also applies with jewelry.  Some travelers will not wear any jewelry, or if they do, it would be something inexpensive and simple, while others will not part with any of their jewelry.
I love my jewelry, but when I travel, I am the minimalist.  I wear only my wedding band, a simple pair of gold hoop earrings and a plastic watch.  Blending in with the locals and not drawing attention to yourself can sometimes be a challenge.  In some countries, I definitely would not blend in since I am a blonde and almost 6 feet in height.  I certainly do not want to draw added attention.
There are so many glorious destinations where the locals struggle because of poverty and rely on tourists for their livelihood.  Tourists who wear a lot of jewelry stand out and are a potential target. 
I cannot stress it enough that when you travel, please keep it simple.  If you are heading to a beach destination, do not wear your jewels, especially your rings because the only person who will be laughing to the bank will be the person who is scouring the beaches with his metal detector.   Suntan lotion makes your fingers slippery and rings can slip off easily as well as swimming in the cold ocean—your fingers shrink and your rings will slide off.   
 www.heartofjewels.blogspot.com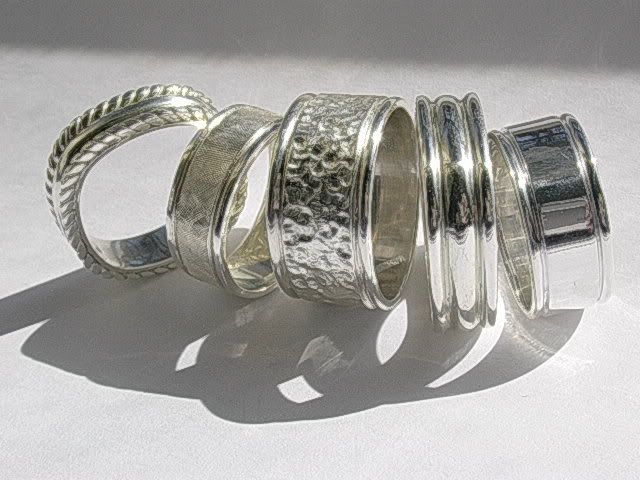 " Sterling Silver Artisan Bands
This is an article written by a member of the SheKnows Community. The SheKnows editorial team has not edited, vetted or endorsed the content of this post.
Want to join our amazing community and share your own story? Sign up here.