Remove Deodorant Marks Like Magic (or Why You Should Take a Clean White Sock When You Travel)
You know that deodorant commercial that shows the woman diving through her window to avoid getting white marks on her black dress? Annoying, right? I mean, I understand what they're getting at -- we've all twisted ourselves into various pretzel-y positions trying to get that dark top on without putting a big white streak on the side, but it's really just a bit of a bother and not quite as dramatic as the commercial would make it seem. Except, of course, when I'm traveling and have limited clothing to wear, in which case, I'm doomed to deal with horrible deodorant marks all over the dress I'd planned to wear for a special party or dinner. Doomed, I tell you!
I have friends who have dealt with this by not wearing deodorant, but, well, that just doesn't work for everyone. Especially women who don't glow, but sweat, and live in possibly the most hot and humid state in the U.S.A. Ahem. So, of course, I've tried lots of the different "invisible" options.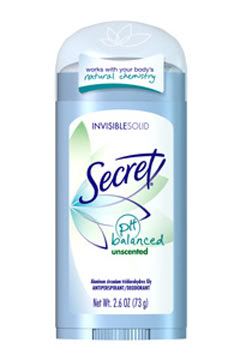 Plenty of them are invisible on my skin -- my personal favorites have been Secret Invisible Solid, which comes in fun scents if that's your style ($3.29), and Dove Go Fresh ($4.79), but I've heard really good things about Tom's of Maine Crystal Confidence ($3.99). In addition to not showing on my skin, both Dove and Secret work, which, you know, is my biggest concern when it comes to my underarms. However, they still show up on my clothes.
Happily, I discovered a most excellent trick for removing deodorant from a shirt, and you don't need any special tools or sprays or anything; just a clean white sock. Simply take the sock and -- get ready for this -- rub the sock over the deodorant mark in small circles. I swear to you, it removes the white mark without leaving behind any bits (like paper towel does) or smearing the mark into a bigger mess (like using water can do).
(I'll refrain from telling you about the gleeful cackle that escaped my lips when I tried this for the first time on my husband's shirt a couple of months ago and saw that it worked perfectly. I'm pretty sure you can imagine just what I'm talking about. It probably wasn't pretty.)
Disclaimer: I've mostly used this trick on cotton and quick-drying materials (like you find in golf shirts), so please don't start swiping your stick of deodorant stick on your favorite silk dress and come crying to me if it doesn't work. I mean, it totally might! But it might not. So, you know, if you try it, let me know!
Also, if you have any great MacGyver-type beauty tricks like Metalia, feel free to share. I'd also love to hear about other tricks for keeping your clothes deodorant-free and whether you have a favorite brand.
Photo courtesy of drugstore.com
You can find more pearls of wisdom from Kristen at Jeez-o-petes or by following her on Twitter.
This is an article written by a member of the SheKnows Community. The SheKnows editorial team has not edited, vetted or endorsed the content of this post.
Want to join our amazing community and share your own story? Sign up here.