{by} Sasha | Crows' Feet, Cupcakes, and Cellulite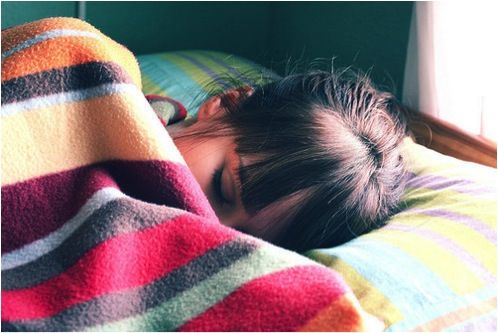 {via}
Sad news, side-sleepers and spooners: sleeping on your side can be a major wrinkle causer. A few months ago I came across an article that discussed wrinkles created during sleep. In short, the compression (aka smooshed factor) of your face and your pillow night after night can potentially cause fine (and eventually deep-set) wrinkles. That's right. From crows' feet to chest wrinkles, your nightly slumber might be causing those oh-so-dreaded wrinkles. Need a little more perspective? We spend a third of our life sleeping (okay, for some of you it's more like half…yes, naps count) – and that's an awful lot of shut-eye...and potential wrinkles.
So is there any truth to the whole satin pillowcase/wrinkle prevention thing? I put it to the test and I'm pleased to report I have joined the anti-cotton team. I picked the Cupron Cosmetic Pillowcase (largely due to the fact that it has "cosmetic" in the title) and after weeks of sleeping testing have become a satin convert. Not only does the material combat wrinkle-causing face smooshing, but it also contains a skin-enhancing mineral, copper, which helps create smoother, more hydrated, healthier skin. Oh, and due to the infusion-technology used, the copper won't wash out. (Okay, seriously, how cool is that?)
If you're a chronic side-sleeper and worry your nightly ZZZs are potentially causing wrinkles, you might want to check out the Cupron Cosmetic Pillowcase. Hey, the only lines we gals want to see are the short ones at the beauty counter.
Preventing wrinkles and getting prettier while I sleep? Beauty sleep just got a whole lot prettier (literally)…
What do you think, beauties? What type of pillowcase do you use?
This is an article written by a member of the SheKnows Community. The SheKnows editorial team has not edited, vetted or endorsed the content of this post.
Want to join our amazing community and share your own story? Sign up here.