This article was written by a member of the SheKnows Community. It has not been edited, vetted or reviewed by our editorial staff, and any opinions expressed herein are the writer's own.
I'm not normally what you'd call a light packer. I always start with the best intentions, but at the last minute, I always decide I have to bring that extra pair of jeans/sweater/four pairs of shoes, and before you know it, my suitcase is stuffed. But in a little over a week, I'm going to this little conference in Chicago (anybody else going? Find me -- let's chat!), and I'm determined not to overpack. And I have a plan.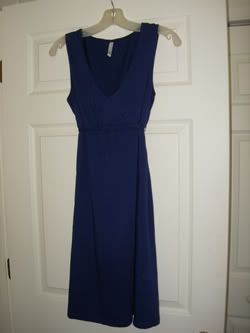 I purchased this dress at Old Navy (it's no longer available online, but it's at my local store in both short, which is shown, and long, which I also bought). It was $24.50, and I can make it work for just about anything with the proper accessories. Seriously.
For example, for the plane ride, I'll wear it with a cute (but functional) cardigan, flats, and probably pearls. Because, really, I'm willing to do just about whatever I can to keep security from treating me like a suspect, and who suspects the blonde in pearls and a cardigan? (FYI, I'm not planning to be guilty of anything -- I'm just paranoid about getting frisked.)
Then, for sessions/impromptu chats/cocktails, I'll be bringing my favorite bright scarf (it's wide enough to go over my shoulders for a bit of warmth, too). Worn with stylish, funky, but totally comfortable gladiator sandals and interesting earrings, I like to think I'll look interesting without seeming like I tried too hard. Because, guess what? This outfit is EASY!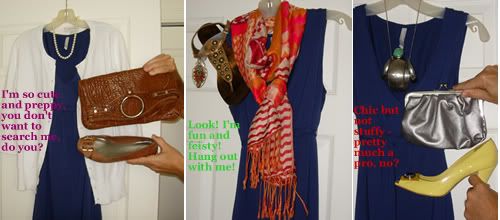 Then, should I decide to tone it down a bit without giving up all my style, I'll pair it with some bold silver jewelry, a cute little clutch, and bright yellow heels. At least, for as long as I can walk in them. And I'm aware that this outfit won't work for something truly formal, but I very rarely go anywhere that requires me to be dressier than this.
Moral of the story -- whether it's a little black dress, your favorite jeans/sweater combo, or something else, if it makes you feel good, spend a little time trying out different accessories with that outfit to see if you can get some different looks out of it. And try it on. You never know -- two prints might really complement each other, and that belt might give your outfit a whole new appeal.
What kind of accessories do you use to get the most use out of your favorite clothes? Leave a comment, or if you're in Chicago, come and tell me all about it. I'll be the one at the bar trying to figure out how to make the cocktail swords into some unique jewelry so I can wear the same dress yet again. Oh, yeah. And I'll probably be wearing a navy dress.
In the meantime, you can read more from Kristen at jeez-o-petes.com.