This article was written by a member of the SheKnows Community. It has not been edited, vetted or reviewed by our editorial staff, and any opinions expressed herein are the writer's own.
There's a hot trend going around the hard-working bloggers and PR girls of New York Fashion Week: the Calgel manicure.
What makes Calgel different from a regular manicure? It's a thin gel that's baked on to the nail with a UV lamp (I've been comparing it in size to a George Foreman grill), and because it comes in so many colors and styles, you can do incredibly intricate designs with gradations, patterns, rhinestones, and custom-mixed colors, as the clear gel can be mixed with any pigment.
But the real scoop is this -- it doesn't chip. At all.
I went to Sakura Nail Spa in the Lower East Side to try out the Calgel manicure; while I considered doing something fun and stripey or blingy and glittery, I ultimately decided to go with something a little more basic -- a gunmetal pearl-grey. It was a custom-blend of clear pearl gel, a little bit of black gel, and some black pigment, and it came out just like I wanted: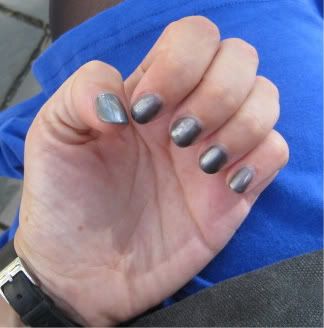 Here's the question for you: when did I get my nails done, and when did I take that picture?
I had my nails done on Friday afternoon. This picture was taken Monday afternoon. Between Friday and Monday, I ran all over New York, including...
Dragging my suitcase through three subway stations and up to the second floor of a walk-up.
Digging around in my purse for keys, my Metrocard, etc.
Taking lots of pictures with my iPhone and my regular camera
Lots of typing and texting
Surviving rainy weather and hot weather (yes, in the same weekend)
Clumsily banging my nails on everything, as you do
When I painted my nails purple for BlogHer '09, I waited until the night before so I wouldn't chip them. Sure enough, they chipped on the flight to Chicago.
It's now Tuesday and my nails are intact. (My cuticles are another story. So please don't look too closely.)
Calgel is still growing, with only a few salons offering it so far. There are the two Sakura locations in New York City, several in the San Francisco Bay Area, and several in Los Angeles. While it's on the pricy side -- my basic, one-color, Calgel manicure was $40 -- it can last for three to four weeks with minimal upkeep. All you need to do is change the top coat once a week, and you're set. Calgel needs to be soaked off, which takes about 15 to 20 minutes, or you can have a "fill", where they file it down and cover it with a darker color; much like hair, you can only go darker once you've started.
Want to see how far you can go with Calgel? Check out some of the nails on the fancy bloggin' ladies at NYFW!
Would you consider going in for a Calgel manicure? And if so, what kind of designs would you want? (I'm seriously considering a glitter stripe at some point...)
Some of the awesome nails from Fashion Weeks of yore for you...!
picapp_gallery("336609","3980947,1573223,1238134,1573222,1573243,4268396,4268397,1573251","","1","1","2")