Live from New York City, it's Fashion Week!
Yes, it's the Spring/Summer 2010 New York Fashion Week, the final time these spring collections will be walking at Bryant Park, as next year they move to Lincoln Center. This is my second rainy NYFW, so I can't say I'll miss hobbling around in the puddles and cobblestones...
I flew in from San Francisco on Thursday night, which unfortunately means I missed all of the awesome and exciting events of Fashion's Night Out in NYC. But it's okay! I went to a second, smaller event on Friday, which I've been referring to as "Francis Night Out". Hosted by Wendy Brandes and Christian Francis Roth, it was an amazing opportunity to look into a working designer's studio and see the whole process from sketch to swatch to sample to store-ready.
We were guided into the bright and organized studio by Wendy and Christian, who not only had the new Fall 09/10 collection out for many happy fashion bloggers to paw, but the Spring/Summer 10 collection as well. I will get there in just a moment!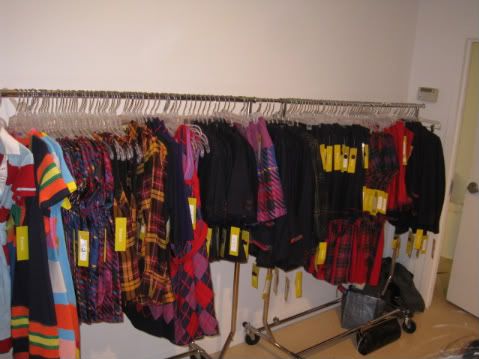 Christian told us that his inspiration for the Fall/Winter collection was taken from the 2005 movie Kinky Boots, where a young man takes over his father's classic shoe factory and turns it into something new and fresh. Christian imagined a girl taking over her father's Savile Row shop and turning it into her own darling boutique, all incorporating classic tailoring techniques, fabrics, and styles.
Of course, we all were drawn to the amazing rack of brightly colored spring and summer styles at the front of the studio, so Christian explained his inspiration for spring -- three types of New York fashionistas, all set up in their respective dioramas a la the American Museum of Natural History.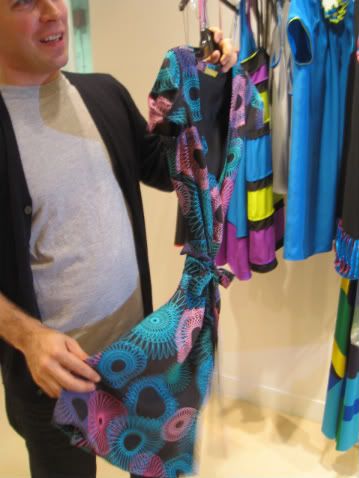 The first girl is the Eastern Gameling, the girl who turns a rainy day into parties at home with board games and bright colors. Two of the highlights from the Eastern Gameling are the vivid prints Christian created using actual classic games -- Spirograph and Lite Brite. You can see the Spirograph fabric made up into a darling wrap dress above, along with a peek at some of the other bright and swingy dresses from the Eastern Gameling selection.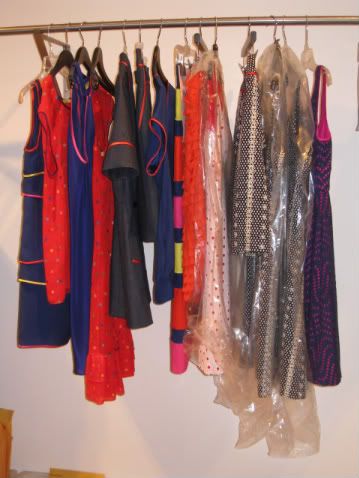 The second girl is the Meadowspringer, a cheerful Central Park picnicker in soft denim, lace with bright underlays, and primary colored embroidery.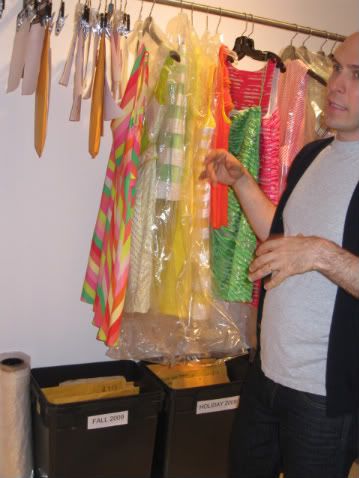 The final diorama is the Wild Sugartooth, the sweet girl you can always find in juicy citrus and ripe pink and with a cupcake in hand. We all remarked on how a certain dress looked like Zebra Stripe gum ("the best gum in the world for two seconds") and another looked like a swirled lemon lollipop.
While we weren't allowed to try on the spring collections, we were invited to try on -- and purchase -- the pieces from the Fall collection. I was drawn to the purple shirtdress with the argyle detailing on the hem...
...and so it will be returning to San Francisco with me at the end of Fashion Week.
For more pictures and more behind-the-scenes goodies from the Francis studio, you can check out Jennine's coverage on the coveted, as well as the official recap at francisnewyork.com.
More Fashion Week eye candy:
This is an article written by a member of the SheKnows Community. The SheKnows editorial team has not edited, vetted or endorsed the content of this post.
Want to join our amazing community and share your own story? Sign up here.