I've been in school for a long time. When I say that what I mean is that when I count the time I started pre-school (and played "house" while using my teacher's REAL purse which netted me a parent conference) and then went all the way through high school. After that, it was college and then straight into teaching. Teaching went along with getting another degree and moving into administration. All told, we're talking about 34 years. But this isn't a math lesson in how old I am even though I've just counted all those years. This is a lesson in fashion as it's related to me as a girl.
If I were to ask my mother about the fashion fails I've experienced during those times she is quick to say, "When you girls put your jeans in the bathtub and bleached the heck out of them until they were ready to be ripped up" and "When you girls went too overboard with creasing your jeans and ironed them until they had perfect lines in them but looked uncomfortable" but then she also said, "Hey, anything that covered you up? I was ok with that." It's nice that my mom remembers all my failures related to the way I dressed when I was a kid. In my defense, she did force me to wear a Catholic school uniform until I was in 4th grade and she and my dad gratefully allowed us to attend public school.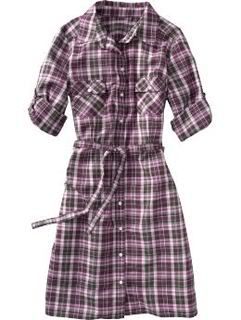 Since I'm still technically in school, I get to see the fashion disasters that plague all school personnel. Baggy yet belted jeans that show off boxer shorts on boys is, for some strange reason, sticking around. When I see the girls wearing muffin tops with jeans that don't support all their on-the-cusp-of-womanhood curves, I tend to cringe. But lately? There's a new fall trend with the girls that is making me overjoyed. It's cute beyond words. The belted shirt dress. The one pictured here is from Old Navy.
These outfits are everywhere right now in my school and everywhere I see young teenage girls. The dresses are usually paired with leggings and flat shoes. They're even accessorizing well with colorful bangles that match the plaid colors in the dress. Perhaps it's just me, but it's making me excited because, for once, girls are looking like (gasp!) girls. Femininity is making a comeback for teens and it pleases me to no end that it doesn't include boobs falling out of ill-fitting tops or super tight pants that reveal every fatty, frothy Frappucino they've consumed.
So, thanks Fall Fashion for teens 2009. You're making it easier to look at these girls who are looking appropriate and beautiful.
This is an article written by one of the incredible members of the SheKnows Community. The SheKnows editorial team has not edited, vetted or endorsed the content of this post.
Want to join our amazing community and share your own story? Sign up here.