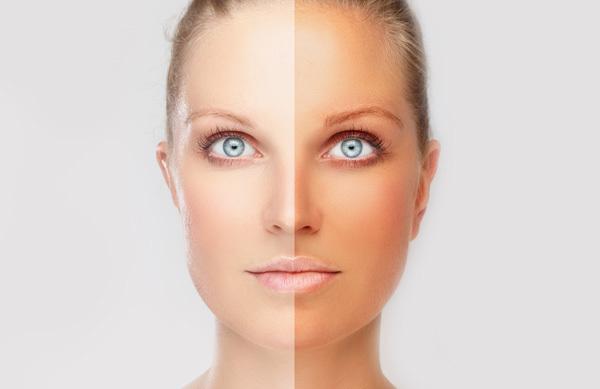 I have two dark spots on my face. I probably should get them taken off but sigh, I have done that in the past and really, they are just two spots. So I have decided to use The Love That Dare Not Speak It's Name - Porcelana.
Oh yes. THAT Porcelana.
I was reading about anti-aging and firming creams online. I mean, come on, it's obvious that I am a woman "of a certain age" and things aren't exactly staying where they should. Some days I feel like the skin around my eyes has turned to PlayDoh with a heat lamp just melting it until it slides down around my jowls somewhere (another post altogether!)
The stuff that's out there is 1) enormously expensive and 2) comes in the teensiest, tiniest amounts that it's not even worth considering.
Then I read somewhere in some off the wall and underead beauty blog somewhere that Porcelana is a gem at treating dark spots and correcting skin tone.
Hmm. DOUBLE hmm.
Being a blonde and really just being "of a certain age" my skin tone sucks. I mean really sucks. It's weird and funky and pretty much ivory and not very exciting. It's definitely not the milky white *I* think it should be and it's definitely not even.
So now what?
I tried BB Cream even though I wasn't exactly sure what made it any different from Almay's skin matching foundation but something does because yes, it does diffuse the light and yes, it did even up my lackluster skin tone. I used the Loreal brand because it got the highest ratings when I bought it (and not too pricey which for a Loreal product was enticing. I think I paid less than $8 for it.) Now I think Garnier gets better ratings but don't forget, Garnier is Loreal for cheap.
Anyway, while the BB Cream is definitely a keeper (and one I recommend especially because the Loreal version has sunscreen - always a good thing when trying to even out skin tone in my opinion), I felt I needed more.
Enter the obscure recommendation I read about Porcelana.
Okay fine. I went to WalMart and found the day cream version on sale for $4. Regularly less than $5 and the night cream is $4 and some change. I naturally opted for the cheapo one.
I got it home and opened it up. Gooey and sticky. Just the way *I* like my face cream, don't you? NOT. But I pressed on and slathered a small amount on. Which is what the directions said to do. All of the reviews I've gathered said to only use it on the spots I needed lightening but I put it all over thinking that I need to deal with the skin tone...I also put it on my hands.
Hopefully you're old enough to remember the commercials Porcelana used to run about liver spots on your hands...HA! (Liver spots are the same as the spots on your face...only they had the gross name so everyone wanted them gone!)
First of all, the stuff hardened on my face. Like a mask almost. Like mud. It felt like ceramic does before you fire it. I thought....ahhh, it feels like porcelain without the glaze and I am probably wrong that that is where it gets it's name but that is definitely what it felt like.
It pulled however I had soothed it on which was pretty much haphazard but I did notice it. That was when I knew this was a product that could possibly become standard bedside fare.
Now yes, I admit, it has, let's say a piquant herbal (read: nasty) smell to it. But if you smooth it on correctly, it lifts and pulls and those wrinkles around your eyes? Maybe not gone but better.
I saw lightening effects within two days on my face. I mean, I could SEE them with my reading glasses enhanced eyeballs!!!
After smoothing it on yesterday morning and smoothing upward and outward to pull my skin...I smoothed on the BB cream. WHAT AN EXCELLENT (and I mean EXCELLENT) base!
The BB cream took on a life of it's own and the spots disappeared completely with it and it really made my skin look amazing.
I am more than 100% a fan of Porcelana and think that a whole gigantic jar of this miracle stuff being $4 and change is more than a bargain if you're looking to even out skin tone AND smooth and tone your face. I don't know if those results are forever results but then again, based on reviews of other skin firming tonics, I would say that this produces fabulous results and is cheap enough to give it a go.
If it gets rid of the uneven skin tone and gives me the milky white skin I was born with I am more than a fan for life.
So...this being an unsolicited review, I can say with great enthusiasm that if you're looking for something that smooths and firms, gets rid of nasty brown spots and evens out skin tone...go for the Porcelana. The jar is enormous and if the one I have doesn't last a few years, I'll eat another jar for free :)
I'd love to hear your opinions too. What do you use for brown spots? Do you use a lifting and firming serum or cream? What kind and do you see results?
My experiment is still going on to see if the brown spots really fade to nothing so I'll keep you posted. In the meantime, I am guarding the Porcelana like Ft. Knox.
________________________________________________________________________________________________
This is an article written by a member of the SheKnows Community. The SheKnows editorial team has not edited, vetted or endorsed the content of this post.
Want to join our amazing community and share your own story? Sign up here.