December is holiday party season -- time to choose the perfect outfit for all those open houses and office parties and lunches with friends you haven't seen since last year. And after you've chosen that perfect outfit, with cute shoes and great jewelry and a REALLY fabulous bag, you throw on any old coat and head out.
Whoa, whoa, whoa. Let's back up.
Every grown up woman needs a dressy winter coat, something to wear with a little black dress and nice pair of jeans and essentially everything in the closet. The best length is either slightly above the knee or slightly below; choose a shape that works for YOUR shape. Empire waists are universally flattering and have a cool retro look.

Jessica Simpson saucer button coat, Nordstrom, $248.00
This winter, three-quarter length sleeves are everywhere; wear them with shorter sleeves and long gloves, or wear over full-length sleeves. You can also opt for wider bell-shaped sleeves, like the ones on the Jessica Simpson coat pictured here. This coat is great because it has the line of a dress. A coat like this looks best with a shorter dress or skirt, or slim pants. Keep the entire line fairly simple and clean, though, because the coat is already making a statement.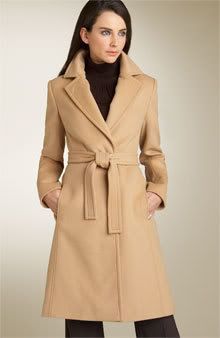 Calvin Klein wool melton coat, Nordstrom, $298.00
If your style tends toward conservative and old school, look for a longer, wrap coat like the Calvin Klein melton coat pictured here. A single-breasted cut works on virtually everyone; the neutral camel color can move from day to evening. This coat is perfect for day AND evening, because it is so simple and classic. Wear it with jeans and a sweater or with your little black dress; belt it over a slim line or leave it open over a fuller dress or skirt.
What about length? Does your coat have to be longer than your skirt? Not necessarily. A structured coat, regardless of length, is perfect over a dress or skirt, as long as your skirt's hem isn't more than a few inches longer than the coat (a knee length coat doesn't work with an ankle-length skirt). If you are wearing a skirt with some volume, opt for a shorter or cropped coat, one that hits at the slimmest part of the skirt or dress; a very long skirt also needs a cropped coat or jacket.
Who else is thinking about holiday parties?
Kathy Flannigan at the Milwaukee Mirror shows us some fabulous party shoes.
Jen at Pretty Modest has found a vintage-inspired party dress.
Angie at You Look Fab has tips for black tie party dressing.
Damselfly at Growing a Life is dreaming about HER party dress.
Susan Wagner writes about fashion at Friday Style and The Working Closet, and about everything else at Friday Playdate. She is currently in love with her cropped pea coat, which goes with everything.
This is an article written by a member of the SheKnows Community. The SheKnows editorial team has not edited, vetted or endorsed the content of this post.
Want to join our amazing community and share your own story? Sign up here.