Last year, I was a BlogHer conference newbie. And although I had the very best intentions for packing smart, I still ended up bringing a number of items that never made it out of my suitcase. That being said, I was really happy with the items I did wear, so I'm here to offer my advice to those of you attending your first BlogHer.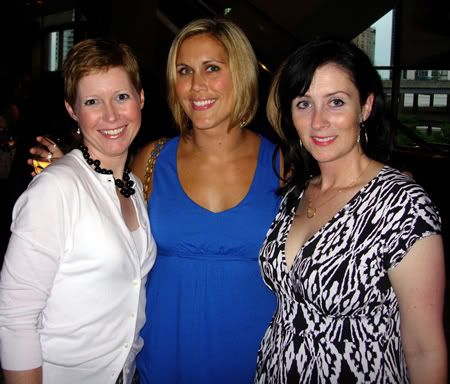 Dress like you. I wore a variety of dresses, for the most part -- I stuck to cotton dresses with cardigans during the day (cardigans and wraps are key, because you never know when you'll walk into a sub-zero conference room for a 90-minute session!), and I wore slightly dressier frocks one or two nights.
However! I wear dresses all the time at home. I think they're comfortable and I feel good when I wear them, so it was an easy choice for me. If you always, always, always wear jeans, then wear jeans! Just bring a pair you can dress up and a pair you can be comfy in. (If that pair is one and the same, I'm gonna need some more details, and if you could bring a spare pair in a size 10 or 12, that would be just swell.)
Consider what you'll be doing. If you're going to squeeze in as many sessions as humanly possible, you'll want clothes that are comfortable for sitting (no micro-minis, both for your comfort and for sanitation concerns) and shoes that will allow you to hightail it from one session to another in a speedy manner. If you're planning to hit a couple of sessions but want to do a lot of sight-seeing, make sure to bring clothes that will stand up to the heat of a New York summer and shoes that can pound the pavement. If you just want to party like a rockstar and look the part, you can do that, too. The conference is your oyster!
Don't be scared to try something new, but only if you want to. For many of us, conferences like this are an opportunity to stretch our sartorial legs and try something we might not be comfortable with in daily life. Got a passion for mixing patterns, but your kids tend to laugh when you try? Bring those plaids and paisleys and give it a shot -- you might find you love the look enough to put up with your family's teasing, or, after viewing a picture, you might see why they found it so funny.
That being said, if the thought of trying an outfit you don't wear at least three times a week makes you break out in hives, don't even consider it. The best part of BlogHer is meeting new people and sharing ideas, and whether those ideas are about fashion or photography or politics or kittens, you'll walk away knowing more than you did before. And it won't matter if you're wearing sneakers or stilettos when you do. (I'll probably be wearing flip flops or Converse All Stars, for what it's worth.)
Remember, you're not the only one thinking about this. Thinking about what to wear isn't unique to conference virgins -- we all worry about what to pack when we go away, even when it's just for fun. So, if you see somebody wearing something you like, toss a compliment their way! You never know, those shiny red shoes you admire might be to them what a mixed pattern is to you, and you could really make someone's day. Heck, come up and compliment my shoes if you need a warm up!
If you're looking for a little more advice on what to pack, see what Susan Wagner has to say. She always looks nice, you know. And Maggie Mason seems to know a thing or two about packing light.
Photo from BlogHer 2009 -- Susan Wagner, Kristen Seymour and Cat Lincoln, all wearing what's comfortable, and all having an amazing time. Read about Kristen's trip to BlogHer '10 at Jeez-o-petes or follow her on Twitter.
This is an article written by a member of the SheKnows Community. The SheKnows editorial team has not edited, vetted or endorsed the content of this post.
Want to join our amazing community and share your own story? Sign up here.