This fall, more than falls past, I'm digging what I'm seeing in stores. The prints are to my taste, many of the cuts are flattering, but there's one problem. Just looking at the chunky knits and multiple layers in these outfits is making me sweat.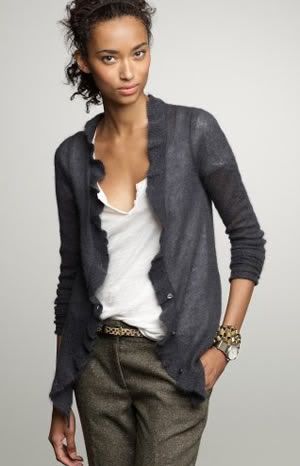 You see, here in the south (I'm in Florida), we likely won't start seeing real fall temperatures until somewhere around Thanksgiving, and even then it's no guarantee. And I'm (mostly) not complaining -- I moved here from Michigan, in large part, for the weather. I do love walking outside on Christmas morning in my bare feet.
But oh man, you guys, this time of year just kills me. I've always loved the change of wardrobe from light, casual summer clothes to the heavier, more structured fall pieces, and I just can't do it right now. It's currently 90 degrees here (though, if you ask me, it's more like 120), and it's a stretch to even wear full length pants. Unless I want to sweat completely through them, wearing most fall clothes is simply out of the question.
However, I'm tricky when it comes to fashion, you know, and while I learned the hard way that just dressing like it's fall doesn't make the mercury drop, I have figured out some easy ways to bring fall into my wardrobe without suffering heat stroke.
First, consider color and texture. Yes, a thin, cotton tee in a bright color screams SUMMER! But, a tee in a lightweight merino wool in a darker color (like this one from J.Crew, $68) has a much different look, but still keeps you cool. (No, seriously, I have a merino wool polo top that I've been wearing all summer. It's fabulous.) So, lesson one: You don't necessarily have to cover more skin to make your wardrobe more autumnal.
Now, even though putting on a pair of long jeans sounds like the worst. thing. ever at the moment, by adding boots you can make almost any dress or skirt look more seasonal. I'm really partial to chunky motorcycle boots, like the Savannah Harness Boot from Payless ($49.99, compared to well over $200 for similar styles from other brands). Lesson two: Even a sleeveless cotton frock will look less summery with fall footwear instead of sandals!
Having said that, you still won't feel quite like fall with spaghetti straps. When it comes to covering up your shoulders, there are a couple of cool (get it? cool?) options. A sweet little shrug, such as the Argyle Avian Shrug from anthropologie ($88) will look cute over a tank now, but when it actually gets cold, you can wear it over long sleeves for extra warmth and a totally different look. Or, look for something with more coverage, but a lighter weight, like J. Crew's gorgeous Lumiere Ruffle Cardigan ($89.50). Wear it loose and airy now, and when it cools down, cinch it with a thick, heavy belt for a beautiful contrast. Lesson three: A sweater doesn't have to make you sweat.
Now, the final trick up my short sleeve -- scarves! I have a great collection of super chunky, funky, handknit scarves for winter, thanks to my talented mom, but in the meantime, I've been wearing lighter scarves to add a little more bulk to my sleeveless dresses and featherweight tees. I actually just bought this scarf a couple of weeks ago from Old Navy (on sale for $7.50; you can't beat that!), and have been wearing it mostly with a tank, rolled up boyfriend jeans or a denim skirt, and flats, and I swear to you, I can't walk to the mailbox without getting a compliment. So easy, so stylish. Lesson four: Find a lighter version of your favorite cold weather accessories.
Now, you know all my tricks, and it's time for you to spill. What secrets do you have for a smooth sartorial transition between seasons?
Photo, along with my desire to do some serious shopping, courtesy of J. Crew.
Kristen Seymour also complains about the weather at Jeez-o-petes and on Twitter.
This is an article written by a member of the SheKnows Community. The SheKnows editorial team has not edited, vetted or endorsed the content of this post.
Want to join our amazing community and share your own story? Sign up here.