This article was written by a member of the SheKnows Community. It has not been edited, vetted or reviewed by our editorial staff, and any opinions expressed herein are the writer's own.
About a year ago, I bought my husband a Kindle. He travels a lot for work and really loves to read, so it was a pretty perfect gift, if I do say so myself. Or, at least it was, until he let me borrow it for a trip across the country, after which he found it nearly impossible to pry his treasure from my vice-like grip. I was almost done with Mockingjay -- you can't expect a girl to put down a book like that, can you?
Anyway, when I bought him a Kindle, his sister bought him this case for it -- it's plain, black, and totally functional. He loves it. I ... wanted something different. I mean, I still wanted something functional -- I liked the padding and the pockets, but, I mean, this is an accessory I know I'll carry with me all over the place. Am I wrong to want my e-reader case to reflect my personal style?
Apparently not! Everyone from Amazon to Etsy to numerous high-end designers are offering cases for Kindles, iPads, and more. Some are pretty reasonable. Some are absolutely, totally, 100 percent not. But the fact remains that, whatever your sense of style, you've got options. And that's a really beautiful thing, because even though we know we shouldn't judge a book by it's cover, I think it's somewhat acceptable to deem someone stylish based upon a really fabulous e-reader case!
After much shopping, my choice was the one pictured above -- the Lotus Flower case by Elizabeth David Designs, $45 on Etsy. In fact, I found quite a few great options on Etsy, some of which you can totally customize by choosing which fabrics to pair. In addition to funky fabrics like the ones on the case I chose, you can find cases made of leather, fleece, and recycled materials on Etsy, ranging in price from $20 or so up to $60 or more.
One thing to watch for, though -- be sure you know what features you want, and then make sure the case you choose has those features (and really, that's good advice wherever you shop). If you really need pockets or a light holder or a case that zips, well, buy one that has or does those things. Or ask the seller if he or she is willing to offer some customization.
Amazon itself has some attractive Kindle cases -- I particularly like this pretty apple green one, which is just $34.99. It has good reviews, too, with customers stating that it's lightweight, which is one of the things I like best about my Kindle to begin with, and "disappears" just like it's supposed to. And you can't argue with that price, you know?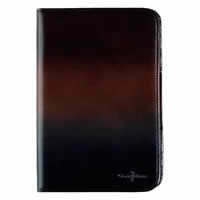 In the "still under $100" range we have a really lovely leather Cole Haan case ($98, colehaan.com). The dark brown/navy ombre is really stunniing and sophisticated -- I think this would be an excellent compromise if my husband and I had to share one e-reader and one cover. With a leather outer and suede on the inside, there's no doubt it's luxurious, but I have to wonder if those materials add extra weight.
For you iPad users looking for a case that's just a little edgier, try this Rebecca Minkoff Skull canvas case ($125, Shopbop). You might not be in a position to cough up the cash for one of her $500 handbags (even if it's really, really pretty), but this is the kind of splurge many of us could find a way to make. It's fun, it's different, and you'll easily be able to pick it out from the books and other items on your desk or in your purse. Unless you decorate in skulls, that is.
One of my favorite designers (even though I have yet to actually own anything of hers) is Diane von Furstenberg, and it totally tickles me that she's in the tech game. Timeless style and the hottest new tech merge pretty darn seamlessly in her Paddie iPad Case ($150, Shopbop), and as I mentioned above, this is a pretty fabulous way to get some DVF in your life while still being able to afford, like, the iPad you want to put in there.
Of course, if you really want to go high end, you could take it up a few hundred notches with this $495 Dolce & Gabbana Leopard-print leather iPad sleeve (net-a-porter.com). Is it gorgeous? Well, it's Dolce & Gabbana leopard print, so, yeah, completely.



But, you guys, it's almost $500 and it's just a sleeve -- you don't even keep it in there to use your iPad. Am I mad? Is it not so bad? Should I loosen up, just a tad? Or take my $45 case and just be glad? (Well, now this virtual shopping is just making me sad.)
Do you have an e-reader? And if so, do you have a case you love, or did you opt for frugal function over other considerations? Click here for more options.
When not shedding tears over the fact that she's never, ever going to own a $500 anything sleeve, Kristen is often on Twitter or on her blog, Jeez-o-petes.