This Saturday, I'm going to a casual wedding picnic/dinner reception. S. is the first one of my group of high school friends to get married, and she's insisted that we don't dress up (!). After polling the internet with a Polyvore of three possible outfit options, I think I figured out my outfit. It's the nail polish that's got me stuck now.
The internet spoke, and the bride was among them -- hooray for friends following your RSS feeds! -- and so I'm going with a turquoise dress with white embroidery, brown sandals with bronze details, and a white cardigan. Cute, summery, not too fancy but still nice for a picnic that turns into a family dinner.
I already know I'm going to do for my make-up (very bronze-y and summery), and I've already got my Jergens self-tanner going, but I'm stuck trying to figure out what nail polish to paint my toes. (Oh, the humanity!) And this is where you come in and help me out!
I've pulled ten possible colors from my collection; I lean towards the non-traditional polish palettes, as you can probably see, so I'm not really asking which pink I should choose...! I've put them on the dress so you can get a better idea of what I'm going for.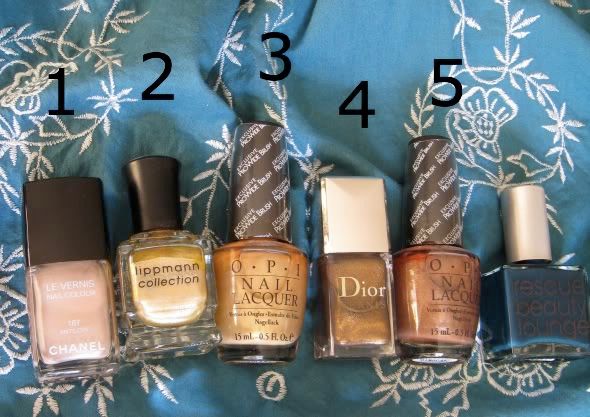 1. Chanel "Antilope"
2. Lippman Collection "Nefertiti"
3. OPI "Curry Up, Don't Be Late"
4. Dior "Gold Nugget"
5. OPI "Charmed By A Snake"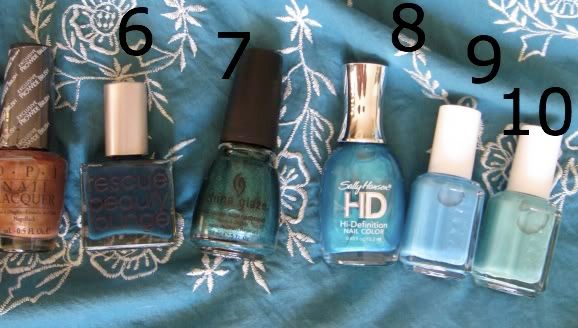 6. Rescue Beauty Lounge "Teal"
7. China Glaze "Watermelon Rind"
8. Sally Hansen HD "Pixel Pretty"
9. Essie "Shelter Island"
10. Essie "Greenport"
I'd love to hear your input! I'm leaning towards "Antilope" on my fingers, but I could be persuaded to switch to another gold (maybe "Curry Up"). The toes are up in the air (so to speak), but I'm definitely more in favor of the turquoise-y colors there.
Let me know what you think, and I'll be painting with the winner(s) on Thursday or Friday night...!
This is an article written by a member of the SheKnows Community. The SheKnows editorial team has not edited, vetted or endorsed the content of this post.
Want to join our amazing community and share your own story? Sign up here.