Of all the spectator sports that are out there, Red Carpet Walking might just be my favorite. As I do for every awards show, I poured myself a big class of wine, got out some cheese and crackers (low-fat, since I'm still holding out hope that I'll follow through on my New Year's resolutions), and settled into my favorite seat on the couch, clicker in one hand and pen in the other. This spectator sport requires serious note taking, you know.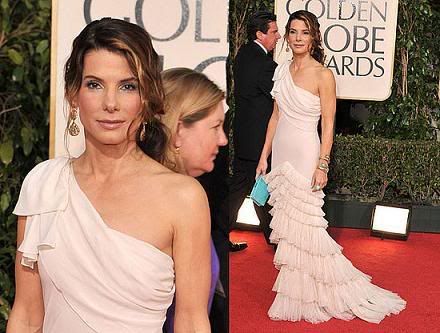 Anyway, as Susan mentioned, there were plenty of trends across the board, like light makeup and undone hair, but not everyone pulled it off perfectly. That being said, some really rocked it, and the best of all of them in my book was Sandra Bullock.
Her one-shoulder, white, ruffled gown was beautiful, classic, and flattering. Her makeup was gorgeous, and I can't even begin to tell you how much I loved her hair. And, I'm going to break it down so you can get her look.
Let's start with the dress. Sure, not everyone can pull off a white dress, but pretty much anybody can pull off at least a top in some sort of light, neutral shade. Find what works for you -- bright white, cream, beige -- and then figure out whether you want to go with a full dress or pair a top with a skirt or jeans.
And then, the neckline. The one-shoulder neckline continues to be a trend this year, and I'm so happy. It's glamorous, it's feminine, and it can work on lots of body types. The fact that Sandra's is a little more ruffled and flowing makes it even more flattering.
Magic makeup. Many women on the red carpet went noticably light with the makeup, and this especially works when you're wearing a really light shade like this. However, don't think for a second this was a simple look -- Sandra's wearing a light lip, rosy cheeks, iridescent shadow, and serious lashes.
And the big winner -- the hair. This hair is too fabulous. She has loose, natural-looking waves, pulled back with a side part. I mean, really, is there any reason you can't do that? Try putting your hair in braids the night before or using a 1/2 inch barrell curling iron, spray a little more than you think you need to, then mess it up and pull it back. Pin some of the back up or leave it in a full pony -- either way is equally stylish.
Sandra has looked a little uncomfortable on the red carpet before, and I think part of the reason she owns this look is because it totally looks like her. And, that's one of the important things to take away from this -- find a look that reminds you of you, and then play it up to the level of trendiness and formality that you need. Or, of course, you can just copy Sandra -- you're going to look amazing.
Photo courtesy of fabsugar.com
This is an article written by a member of the SheKnows Community. The SheKnows editorial team has not edited, vetted or endorsed the content of this post.
Want to join our amazing community and share your own story? Sign up here.