I'm pretty talented at finding excuses for needing to buy a new dress, but I'm also pretty practical, and after doing my holiday shopping and throwing a few parties, well, let's just say that I'm willing to shop, but the bank account is beginning to complain. A lot.
Still, that doesn't mean I'm willing to forego looking sparkly and festive for New Year's Eve, even if I'm not picking up a new beaded and bejeweled dress. If you're in a similar boat and want to look fabulous without having to choose between fashion and food for the table, I've got a few suggestions to perk up your look for less than $15.
L'Oreal Infallible Never Fail Lip Gloss, $7.99 at Walgreens
One of the fastest and easiest ways to look party-ready is with a bright lip color, and I'm in love -- LOVE -- with L'Oreal Infallible Never Fail Lip Gloss. It stays put really well, even through eating and drinking, but looks (and feels!) more like a gloss than a stain. And it's beautifully pigmented, so when I put on my Rebel Red, girl, it is red.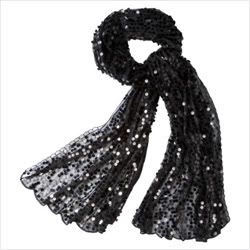 Merona Black Oblong Allover Piattes, $12.99 at Target
Whether you're wearing a simple top and jeans or a party dress, a sparkly scarf adds a fun touch. Of course, a sequined scarf in a bright color makes a serious statement, but I like the black -- it's about as subtle as sparkle can get, but it's still so very, very pretty. And think of how often you could wear it!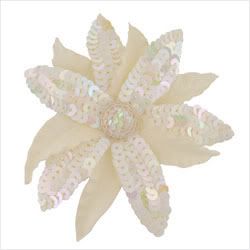 Sequined Flower Hair Clip and Pin, $2 at Forever 21
It's cute, it's sparkly, and it's only a couple of bucks -- it's a Festivus miracle! Clip it in your hair to add some holiday flair, or pin it to a dress or coat to add a little fun to a simple outfit. Did I mention that it's only two dollars?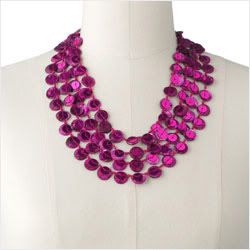 SONOMA life + style Disc Multistrand Necklace, $13 (on sale) at Kohl's
Would you like a pop of color with your bling? You definitely don't want to wear this with an outfit that would compete, but can you picture it shimmering and twinkling under the light of the sparklers with a simple dress, maybe in black or navy? Oooh! Or a soft gray!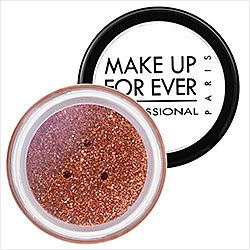 Make Up For Ever Glitters, $13 at Sephora
You want to put me in the mood for a celebration? Just hand me a little glitter. I'm not going to lie -- I have two shades of these Glitters, Copper and White Violet, and they have all kinds of uses (plus, they last forever). Apply lightly over eye shadow to create a little bit of shimmer, or pat it on anywhere with a wet brush to get a stronger effect.
Do you have any must-have accessories or tricks for getting ready for a big night out like New Year's Eve? Feel free to share in the comments ... especially if they're as affordable as these are!
Kristen can also be found writing about things that sparkle on Twitter and at her blog, Jeez-o-petes.
This is an article written by a member of the SheKnows Community. The SheKnows editorial team has not edited, vetted or endorsed the content of this post.
Want to join our amazing community and share your own story? Sign up here.