This article was written by a member of the SheKnows Community. It has not been edited, vetted or reviewed by our editorial staff, and any opinions expressed herein are the writer's own.
I used to consider jeans my "splurge" item. After all, I spend 99% of my waking hours in jeans. I don't like khakis, don't have a reason to wear dress pants, am too self-consicous for shorts and even prefer skirts and dresses that can be worn over a nice pair of skinny jeans or leggings (my legs are so ghostly white that they have been known to blind innocent bystanders). So for years I have indulged myself in designer jeans, my favorite being made by Seven for All Mankind. And of course they were exceptionally well-made and fit just perfectly. But with jeans that expensive, I could never afford to have more than 2-3 pairs in my closet at a time, which I wore day after day after day till each was literally no longer wearable. I could live with the holes in my knees (hippy chic!), but the holes on my butt? Well, that tell-tale wind on your rear feeling is always a sure sign that a pair of jeans is ready for retirement.
Anyway, I found it extremely frustrating, especially after having children and finding that my jeans ripped SO MUCH FASTER, that these "worthwhile" splurges were actually just splurges, period. I can't afford to spend $150 on a pair of jeans that will rip in a few months! (You try crawling on the floor pretending to be a lion/dog/kitty/dinosaur and see how long your pants last.) Granted, maybe if I weren't on the floor so much these jeans might last longer than your average pair, but sitting daintely in cafe chairs while conversing intelligently with adults is just not my life right now so...designer jeans? You're fired!
So in step BDG jeans, sold at Urban Outfitters, specifically this most amazing pair of basic black cigarette jeans.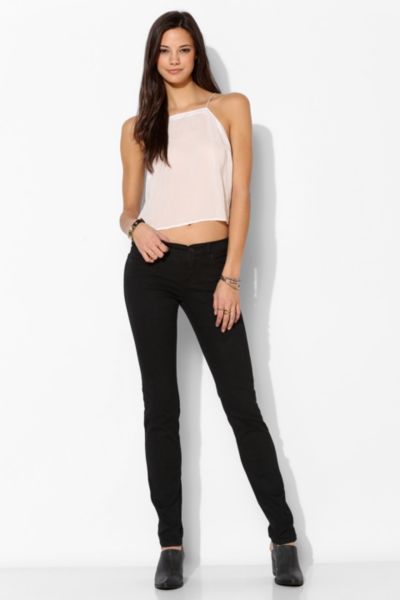 I bought these jeans on a whim a couple of months ago and they are just The Best Thing Ever in the History of Jeans I Have Worn. And while not exactly bargain buys, they're a lot cheaper than my old ones and fit just as well, if not better. Maybe I'm not the best jean connoisseur, but I can't tell any difference in quality right off the bat. All the stitching seems strong enough and the little metal jeans doo-dads are firmly in place. And so far, so good on the holes in my knees and butt front. A pair of purposely frayed-at-the-knees blue jeans have not fared so well, but that was pure stupidity on my part for buying such mother-of-young-children-unfriendly jeans in the first place.
(See that tiny, oh-so-hip fraying on the left knee there? BIG, GAPING hole that my entire knee sticks through now. Heh.)
Obviously I can't live on skinny jeans alone, which seems to be BDG's particular speciality, so anybody else have a mid-priced jean obsession they'd like to share? Right now I'm eyeing GAP's Long and Lean jean, which seems to look sort of like my old favorite pair of Sevens, but for a fraction of the price.