In my dream world, my (expansive, luxurious, custom) closet is filled with Trina Turk shifts and Diane von Furstenberg wrap dresses. Bright prints adorn high quality fabrics, which, of course, are offset with a variety of cardigans and wraps that I picked up at Barneys or Neiman Marcus or some cute little local boutique. But in the life I'm currently living, you're far more likely to see an Old Navy label in my closet than any of those listed above. And chances are decent that I even bought the Old Navy item on sale.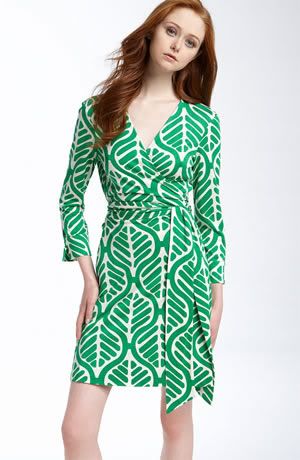 I'm in that unfortunate wardrobe limbo where my budget doesn't always match my personal style. Ideally, I'd love to shun fast fashion; it bothers my eco-friendly senses that these clothes are considered disposable, and I'd much rather purchase beautiful items that last. However, did that keep me from buying this $15 dress at Target (in two colors)? No, no it did not, but now that I've worn one of them several times, it's already pilling on the right side where my purse rubs, and I'm already whining about the fact that I blew $30 on some cute items that probably won't last the year.
(But the dress is totally cute. Do you see the problem?)
This got me thinking, so I started asking around on Twitter and Facebook to see what my friends, many of whom are in a financial place similar to mine, think about fast fashion versus pricy, high quality clothes. A few were strict shoppers of one or the other, though the ones who fell on the side of fast fashion said that budget was a big factor. The majority of people, however, had the same basic answer: spend a lot on timeless classics that you love and will wear forever, and use fast fashion stores to add trendy pieces to your wardrobe.
This is the way I've been leaning, too. I'm a big fan of the dress, so I have a wide variety, and lately, I've been keeping an eye out for discounted dresses I like and know I'll wear forever and ever and ever. I picked up a beautiful BCBG Max Azria dress in a bright, bold pattern at Nordstrom Rack for a fraction of its original price (seriously, it was $50 or something), and a couple of weeks ago, SPUN had a crazy sale on their Diane dress, which I've loved for a couple of years, so it was a no-brainer to snag one for myself. Then again, I also ordered a trendy Old Navy cardigan to wear with it, so ... yeah.
I know a lot of you use sites like Gilt to purchase your favorite labels at a nice price -- I haven't done so yet myself, but as I continue to wean myself off the $15 dress impulse buys (shut up; it's hard!), I plan to do more than window shop with my membership. But it's not a complete problem solver -- I mean, for me, $59 is still a lot of money for a tank top, no matter how much it cost to begin with. I'm not sure if this is a mindset I need to get over, or if I'm actually being smart and frugal.
Tell me -- how do you stock your closet? Do you go for designer duds, or Forever 21 fashions, or some sort of mix? What methods do you use to determine whether a high quality piece of clothing is worth the price? If budget is a factor for you, do you consider the trendy vs. classic factor when splurging on a pricier item, or is your decision based on the oh my god I love it I must have it NOW factor?
Kristen Seymour is a BlogHer CE who you can also find at her blog, Jeez-o-petes or, more often than she'd like her bosses to know, on Twitter.
Photo courtesy of Nordstrom. Good gravy I love that dress. If only it were $15 instead of nearly $300. Sigh.
This is an article written by a member of the SheKnows Community. The SheKnows editorial team has not edited, vetted or endorsed the content of this post.
Want to join our amazing community and share your own story? Sign up here.