Time to break out the SPF. Summer has finally arrived! Parties! Beach Barbecues! More Parties! Lunch with the girls! Dinner with your sweetie! Dancing! Vacations! With the heat, you'll need something cool that makes you look hot. Look like a summer dream in this 'Eternal Summer' outfit. A must-have this season. It can be dressed up or dressed down. You can go bold with bright accent colors or play it casual with basic black. Add classic jewelry or none at all. Style your hair in a loose upsweep or sport a low-hung side ponytail if you dare. You're certain to drive the boys of summer wild strutting around town in this outfit! 
 WOMEN'S BEACH-GRAPHIC "ETERNAL SUNSHINE" DRAPEY TEE 
$12.00
Click Here to View/Order the Eternal Sunshine Drapey Tee 
'What A Feeling' to channel your inner Jennifer Beals from 'Flashdance' (minus the leg warmers) while wearing this drapey tee. An off-the-shoulder tee is super-sexy. Plus, it helps keep you cool during a heat wave. The Eternal Sunshine Drapey Tee is medium gray in color with subtle black sparkling writing. You can wear this shirt several ways. With a tank top of your choice underneath which provides a colorful shoulder accent. You can do the same look with a brightly colored bra strap. Or let your inner wild child out and go bare shouldered. The Women's Beach-Graphic "Eternal Sunshine" Drapey Tee is made from 100% rayon and available at Old Navy. 
MERONA FAVORITE TANK TOPS
$7.00
Click Here to View/Order the Merona Favorite Tank Top
Merona Favorite Tanks are made of super soft, micro-rib cotton and are available in various colors at Target.
dENiZEN WOMEN'S ESSENTIAL STRETCH SKINNY JEAN
"They Don't Squeeze....They Hug." ~ NDP 
$27.99
Click Here to View/Order the dENiZEN Stretch Skinny Jean
Finally, a 'Skinny Jean' that hugs a woman in all of the right places without making her feel like a sausage packed inside a casing. Don't let the "mid-rise" waistline fool you. dENiZEN Jean's don't squeeze. They hug. These jeans are comfortable enough to allow for that extra slice of cake without cutting off the circulation to your feet.  This particular jean comes in classic blue. If you are the type who likes to flaunt it, dENiZEN Women's Essential Stretch Skinny Jeans will make sure to let the world know you've got it, girl. The jean is made of 70% Cotton, 19% Polyester, 2% Elastane and is available at Target.
DAWGS WOMEN'S PREMIUM Z SANDAL
"That's my DAWG!"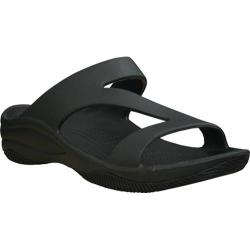 $20.00 & up
Click Here to View/Order Dawg Sandals
It's true what they say, "Shoes make the outfit." But what is the point of wearing a dynamite outfit if your dogs are going to be barking all night because of blisters, arch pain, or cramped toes? Comfort and style is why I am a huge fan of DAWGS. Not only are they cozy, they are stylish, have arch support, can be cleaned with soap and water and do not show foot imprints on the insole like most summer shoes tend to do. Nothing will make a shoe look more trashy than a foot imprint or a scuff. DAWG's come in a variety of styles and colors. Just remember to order one size larger than you normally would to ensure a perfect fit. DAWG's are made from rubber, have a slip resistant rubber outsole, are ultra-soft, light and odor resistant. DAWG's are available at Amazon.com. 
BEELINE ACCESSORIES EIFFEL TOWER NECKLACE
$8.00 & up 
The  Eiffel Tower Necklace can be found at an Old Navy Store in your area.
The necklace is very cute and adds a dash of romantic "Ooh La La" to the outfit. The Beeline Accessory Eiffel Tower Necklace comes on a long chain. The charms rest just below the bra line. Check the charm holders though to make sure they are clasped tightly. I saw several necklaces in the store that had loose clasps which will cause the charm to fall off. No need to panic or pass on purchasing this adorable necklace. A loose charm holder is an easy fix using a pair of needle-nosed pliers. 
STAINLESS STEEL EXPANDABLE 'I Love You To The Moon And Back' BRACELET
$19.99
Click Here to View/Order the Bracelet
This polished silver plated charm bangle bracelet will add a little splash of ice to those hot Summer Nights. Not only does it go great with the outfit, but it's a great conversation piece too. There is nothing better than laying on the beach at night staring up at a starry sky with your sweetie and dreaming of riding the Milky Way. The bracelet is available at Target.
This is an article written by a member of the SheKnows Community. The SheKnows editorial team has not edited, vetted or endorsed the content of this post.
Want to join our amazing community and share your own story? Sign up here.