This article was written by a member of the SheKnows Community. It has not been edited, vetted or reviewed by our editorial staff, and any opinions expressed herein are the writer's own.
I was shopping for the holidays last year when I first saw it, and I'm not embarrassed to say that as I reached out my hand to grab the package, I gave the kind of excited squeeeee! that's not generally heard coming from a supposed grown up. It was a tube, all nicely packaged, of Bonne Bell Dr. Pepper Lip Smacker; the very same lip gloss I'd fallen so hard for in the late 1970s. My heart was kind of, well, racing, actually, as I stood in the checkout line with my rediscovered love. Would it be as good as I remembered? Did they dare to mess with the formula?
 "Oh, you so don't need to put that in the bag," I said to the cashier, slipping my score into my purse. I pushed my cart out the door where I found I couldn't wait any longer. I stood there in front of the store, the weak winter sunlight shining off the plastic separating me from my lip gloss. I opened the package and brought it up to my nose: excellent! It smelled exactly right. I twisted the bottom of the tube and tried it out. I may have cried a little bit because it was honestly everything I ever wanted in a lip gloss, from the silky texture to the smell to the teeny bit of color. And the tube vs. having to stick my finger in a pot (or try and scrinch my lips right into the pot of lip stuff -- am I alone on this one?) was such an improvement. From that day on my Dr. Pepper lip gloss and I went everywhere together, just like old times. I'm talking the trips I take where it's just me, my keys, and my mobile, soon included the Dr. Pepper Lip Smacker. I even formally listed it as one of the three things I always have with me. So, yeah, childhood love completely rekindled.
Winter gave way to spring, and one fateful May day I absentmindedly left my lip gloss in the little well that is in the armrest in the driver's side door of my van. It's a tiny little spot, perfect for keeping the lip gloss at my elbow while driving. By the time I realized (with much horror and gasping in of breath) that I'd left my lip gloss in the car, in the sunny parking lot, it was too late. The carnage was unbearable to witness: it got so melted that it actually leaked out the lid. First I Twittered about it (and got much sympathy!) and then I went back to the store and replaced it that day, though I did wipe off the original tube and keep it in the same place where it had melted. I mean, I couldn't just throw it away!
It seems I am not the only one with an intense craving for this stuff. All the following posts: Lip Balm Junkie by Veena Thomas; Dr. Pepper Lip Smacker How Do I Love Thee by Evette; and Amalah's Flashback Friday: Bonne Bell Dr. Pepper Lip Smacker talk about the gloss with words generally reserved for describing addiction, passionate love affairs, or really, really good cupcakes.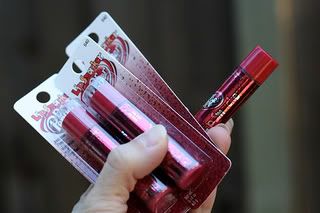 And that is what makes me feel better about my recent order from Bonne Bell and for the way I felt when I saw that box in the mailman's hands. I only ordered twelve. Which, you know, isn't really excessive or anything because since they only cost $1.60 it just doesn't make sense to order a couple. Think of the fuel I conserved by ordering so much at once! And, now? Now I've got one that lives on my desk at work, one in my purse, one on the nightstand, one in my makeup bag, one to keep in my pocket when I wear pants, one to take to yoga (I keep a tube next to my water bottle, just in case I need to reapply. What? It's a 90 minute class!), and still more unopened packages. I'm not kidding when I tell you that I breathe a little bit easier these days, secure in the knowledge that a tube of Dr. Pepper lip gloss is pretty much always likely to be within reach.
Do you love Dr. Pepper Lip Smacker, too? Spill! I want to hear all about it.