Still need ideas for family, friends, teachers, coworkers, bloggers, zombie lovers, special needs kids, app addicts, photographers, style mavens, or foodies? We've got you covered and then some with our gift guides, chosen by BlogHer staff, contributing editors and members. We wouldn't steer you wrong.
**************************************************************
I'm a practical girl, for the most part, and I always appreciate gifts that I can use. But, as a gift giver, I prefer to treat the recipient to something she might not necessarily purchase for herself. Sure, we all like to get things we need, but the things that really get us excited are the things that make us feel special.
And those two things don't have to be mutually exclusive.
The weather is chilly -- even down here in Florida we're hitting some freezing temps -- and when there's a chill in the air, there's no better gift than something warm and soft and cozy and gorgeous. And I've rounded up four lovely cold weather items that are all luxurious but also affordable, between $50 and $100.
Is your friend as addicted to her smartphone as you are? These beautiful Club Monaco Tia Cashmere Fingerless Gloves ($59, Shopbop) provide the warmth she needs with the accessibility she craves. And the style, and the fancy-schmanciness of cashmere. Mmmm.
The other thing that's great about these? They pair equally well with a coat or big, fuzzy sweater as they do with a thin-knit, longsleeved tee. She can wear them outdoors when she's running errands, or, if her office is a bit on the chilly side, keep them on all during the work day.
There's something about angora wool that makes me want to sip hot cocoa and curl up by an old fireplace while listening to some funky new indie music, which is why I think this Crisp Gleam Beanie ($48, anthropologie) is such a perfect gift. I mean, it doesn't get more winter weather-appropriate than an angora beanie, but the beaded bow is so girlie, so glam, so ... now, you know? And I'll be honest -- I would wear this even when the weather isn't all the cool out. It's that cute.
Normally, I stay away from anything that says "juicy" unless it's a fruit (the word is too much like "ointment" for my taste -- I don't want juicy lips or juicy gossip or "juicy" written on any part of my body, thankyouverymuch), but I'm going to make an exception for this Juicy Couture Sequined Ribbed Circle Scarf ($95, Nordstrom). This winter, you'll see this style of scarf on everybody from your coffee shop hipster to high fashion-loving cousin, and I love that this one adds just a touch of whimsy with tonal sequins that will just add a bit of sparkle to the recipient's day.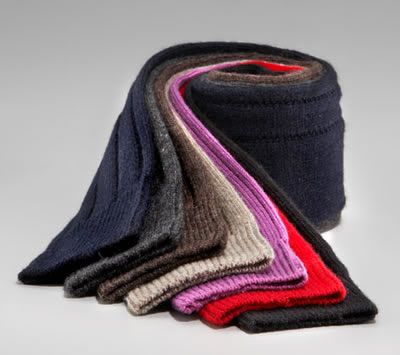 Yes, I know that socks are a total cliche, but cashmere socks are a total treat! This Cashmere Sock Set ($98, Neiman Marcus) comes with two pairs -- one in black and one in your choice of color. I'm going to recommend one of the bright, vibrant colors, because if you're going to have special socks, make them really special, right?
Have you ever gotten a really memorable gift of coziness? Be sure to share in the comments!
Photos courtesy of Shopbop, anthropologie, Nordstrom and Neiman Marcus.
Kristen also blogs at Jeez-o-petes, and you can read more of her thoughts on Twitter.
This is an article written by a member of the SheKnows Community. The SheKnows editorial team has not edited, vetted or endorsed the content of this post.
Want to join our amazing community and share your own story? Sign up here.