I would never argue that anyone NEEDS makeup; I know so many women who are stunning barefaced and natural. But I also hear women talk about how they wish they could tweak this or that small imperfection in their faces, and recently I've been hearing a lot of you say that you're tired of the dark circles under your eyes. I can help with that.
Start with some simple strategies: get enough sleep and drink enough water. Not helping? Then let's move on to the Big Guns: let's talk about how to apply concealer. It's easier than you think, and if you do it right, it will change your entire look.
You will need the following:
A good eye cream (I am partial to Caudalie's Countour Cream Eyes and Lips, but I'm always on the lookout for something better -- sorry Caudalie).
A concealer that is the right shade and texture for your skin. While drugstore cosmetics are fine, concealer is something that you really should have professional help to buy. Think about going to a department store makeup counter or a boutique makeup store for help. Prescriptives has a whole process where they "color print" your skin for the best match, and it really DOES work.
A foundation brush, the big flat kind with synthetic bristles. The Sonia Kashuk line at Target is perfect -- well made and reasonably priced. Wash your brush after every use, please.
Ready? Let's go.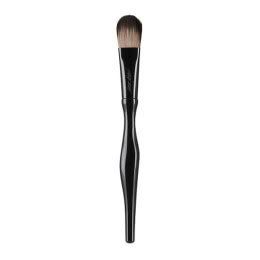 1. Gently pat eye cream from the outside corner of your eye to the inside, using your ring finger. PAT don't rub. You'll thank me for that one day. Let the eye cream set for a few minutes -- use this time to wipe up the bathroom counter or put in your contacts or choose your outfit. Whatever.
2. Squeeze a wee tiny bit of concealer on the back of your hand -- just a TINY bit. The heat from your hand will warm it up and make it blend more easily.
3. Using your ring finger (again) dab two or three dots of concealer across the dark circles under your eyes. Less is more here, please.
4. Time for your foundation brush! Blend the dots using the brush; the wide bristles provide a more even coverage and blend more thoroughly than a traditional concealer brush, which is much smaller.
5. Dot a wee bit of concealer on your eyelid, if you like, to even out redness and provide a base for your eye shadow. Blend with the brush.
It's that simple.
Keep concealer as FAR from the outer corners of your eyes as possible; it will settle in whatever wrinkles you may or may not have there and will not do you ANY favors. You want to cover the dark circles, not highlight the lines.
More tips ...
If you're wearing foundation, apply it first, THEN apply your concealer; you may not need the concealer after all.
When you've finished your eyes, use the brush and whatever concealer is left on your hand to touch up any little spots on your face.
Set your makeup with powder -- I like pressed powder applied with a big brush -- but don't powder the eye area. Powder your T zone, just enough to take the shine off.
To finish your look, apply mascara (to top lashes only) and a little lip gloss. Or go all out with eyes and dust a TINY bit of highlighter under the brow bone and at the inside corner of the eye; line with a neutral shade, right at the lash line, and THEN apply mascara (two coats, if you're feeling daring). The look is still clean and natural, but your eyes will really stand out and your circles will disappear.
Now you're good to go.
Pictured here: Kashuk Tools foundation brush ($14.99 at Target) and Prescriptives Camoflauge Cream ($17.50 at Prescriptives).
Beauty blogs to bookmark: Afrobella (tag line: ALL SHADES OF BEAUTIFUL), 15 Minute Beauty Fanatic ("a high maintenance girl in search of an easier beauty routine"), Product Girl, and Capital Hill Barbie.
This is an article written by one of the incredible members of the SheKnows Community. The SheKnows editorial team has not edited, vetted or endorsed the content of this post.
Want to join our amazing community and share your own story? Sign up here.