You know how I love nail polish? Well, my love for sunglasses is pretty similar, and for many of the same reasons -- they fit no matter how many Combos I eat, they can be wild or subtle, and I can change them out as often as I like. Well, as often as my paycheck allows. Whatever.
I'm really lucky -- my husband has worked in the sunglass industry for years and years (he currently works for Oakley), so over the last 10 years, I've accumulated a lot of fancy schmancy glasses without spending a lot of money. And, even better -- when he had a store? Well, you can just imagine how many pairs I tried on while waiting for him to close up shop. It was like heaven.
(You know, if heaven is filled with luxury sunglasses. Which I suspect it is.)
((Also shoes.))
(((And Combos.)))
You'd think that, after trying on thousands of sunglasses, I would be able to pick a pair without trying them on. You'd be wrong; I can't do it. However, I can limit my choices based on the shape and style of the frame, and when shopping for a new pair, narrowing the field can save a lot of time and confusion.
There are a few basic rules you can follow based on the shape of your face. Oval faces can wear just about anything. Round faces should look for angles and a higher temple to elongate the face, while square faces should opt for curvy frames. Diamond faces will find oval or square frames flattering as they widen your cheekbones, and a frame with some height will be great in proportion to oblong faces.
In theory, this is all you need, but in actuality, we're just getting started. I'm going to give you a few examples of popular styles and who they work best on in just a moment, but first, here are three pearls of sunglass shopping wisdom:
Don't shop with your hair done. You'll be tempted to try on sunglasses when your hair looks fabulous, but unless you only plan to wear your new shades after you've perfected your 'do, this is a bad idea. Pull it back in a ponytail, tuck it behind your ears, or mess it up a little. If the glasses look good with your hair a mess, they'll look fabulous any other time.
Oversized frames aren't for everyone. I'm not saying you can't have your big movie star glasses, but the general rule is that really large or thick frames look better on larger faces, while smaller faces are better suited to smaller styles. If you have a really petite bone structure and still want large glasses, opt for a large look but keep the frame on the thin side.
Give it a minute. This is particularly true if you're stepping outside your comfort zone. If there's a style you're drawn to over and over, try it on and don't snatch them off your face the moment you look in the mirror. Yes, it's going to look different. Different isn't necessarily bad. Be objective about whether they fit well and flatter your face shape -- after that, it's all about whether or not you love them.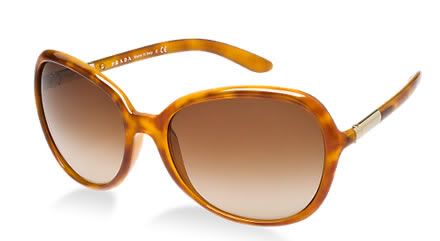 Round
These Pradas ($245 at Sunglass Hut) are big and on the round side. With the thin frame, they're a good option for petite faces that want an oversized look. One warning, however -- make sure the edges of the frame don't go out too far beyond the side of your face or too far down your cheek. That's where the dreaded "bug eye" effect happens.
Square
As you can see with these Bvlgari glasses ($390 at Sunglass Hut), square is also pretty sexy. I like the slight wrap to this pair -- it makes the squared-off style a little easier to wear for more face shapes. This is a great frame for round faces, and should work well for oblong as well.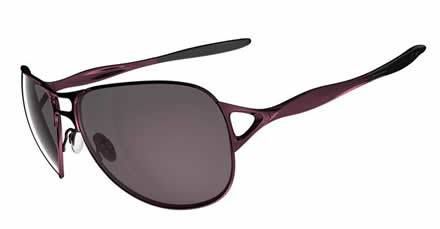 Aviator
The aviator has been around forever -- I can't imagine it'll ever go away. I really like the updated versions, though, like the Oakley Hinder ($170 at Oakley.com). A flat frame with mirrored lenses will always be stylish, but the slight curve to these allows the frame to wrap to my face and, I think, does a better job blocking the light. This has become my go-to pair, and I have yet to see anyone they don't look gorgeous on.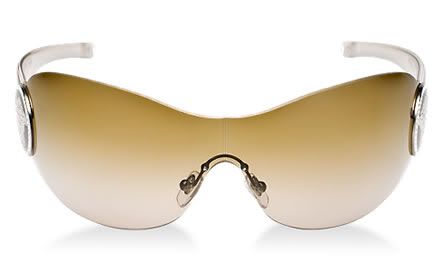 Shield
A shield style can be square or round, short in height or tall, so the right pair really can work for just about anybody. The pair above (Versace, $265 at Sunglass Hut) is better for a slightly longer face shape -- it's a bit curvy for a round face. I particularly like these because, for one thing, they provide a lot of coverage and protection from the sun, and two, I love the warm lens color and light arms -- they just scream summer.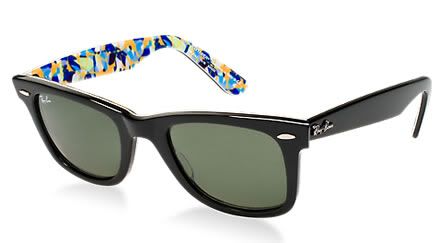 Alternative shapes
If I can't pick a pair without putting them on my mug, I don't expect you to. Some styles are just fun, like the funky Ray-Ban Wayfarers ($159.95 at Sunglass Hut) shown above. These were hot in the Sixties and they're just as fabulous now. Do I think they look particularly flattering on anyone? Honestly, no. But, short of a bright yellow pair I once tried on that didn't do much for my skin tone, I can't say I've ever seen them on someone and thought they didn't look awesome. Hey, if they were good enough for Audrey Hepburn, they're just fine with me.
What shades will you be shielding the sun with this summer? I want to know what your go-to glasses look like!
When she's not trying on sunglasses or painting her nails (for work -- sheesh!), Kristen Seymour is drinking wine over at Jeez-o-petes. You're welcome to join her.
Photos courtesy of sunglasshut.com and oakleywomen.com.
This is an article written by a member of the SheKnows Community. The SheKnows editorial team has not edited, vetted or endorsed the content of this post.
Want to join our amazing community and share your own story? Sign up here.