If all nail polishes were created equal, then choosing the perfect polish would be a piece of cake. You'd simply choose the color you like best, and bam! Your fingertips become fabulous.
But we know that all nail polishes are not the same, and this is especially true when it comes to quick dry polishes. I mean, think about it -- if they all worked as well as the slower-drying versions, that would be the only thing we'd use, right?
Otherwise, opting for the regular polish over its quick dry colleague would be like having the option to boil a pot of water in 60 seconds, but saying, "Oh, no thanks. I really kind of like sitting around and waiting for several minutes instead."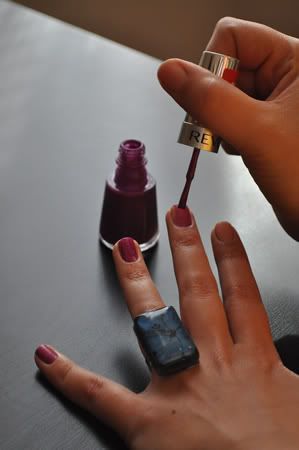 Here's the good news -- while not every quick dry polish on the market is quite up to snuff, some are definitely better than others. And, because I can't seem to pick up a prescription at Walgreens without walking out with a new nail polish, I've tested out four major quick dry drugstore nail polish brands for you: Maybelline Express Finish, wet N wild fastdry, Revlon Top Speed and Sally Hansen Insta-Dri. I'll compare each based on price, color availability, quality of polish (i.e. how opaque/rich/shiny is it?), and quick dry capability.
Maybelline Express Finish, Grand in Green

I've used other Maybelline nail polishes and had good experiences with them, so I had high hopes for this.
Price: $3.29 at Walgreens.com
Color availability: Great! It's offered in 20 shades, and there were several I really liked.
Quality of polish: Fair, if that. It was very difficult to get an even coat, and even after two applications, there were parts of my nails that looked really light.
Quick dry capability: Excellent. I didn't time it to make sure it met the 50 second claim, but by the time I finished my second hand, the first hand was done.
wet N wild fastdry, Saved by the Blue
Wet N wild isn't a brand I've used since I played dress up in the '80s, so I didn't really know what to expect.
Price: $1.99, I believe, at Walgreens (although I can't find this online anywhere to show you!)
Color availability: Fair at my local store, but, as noted above, I can't find the fastdry polish on Walgreens' or wet N wild's site, so it might be less available than you'd think. The colors available at my store were mostly bright and bold, definitely marketed to the younger crowd.
Quality of polish: Decent. It definitely took two coats, but the color spread evenly and had a nice sheen. Don't expect to get too many days out of it, though. But isn't that the beauty of quick dry? You can change it up all the time!
Quick dry capability: Super fast. Like, almost immediate on the first coat.
Revlon Top Speed, Violet
As with Maybelline, I've used Revlon polishes before and been quite impressed, and since this bottle looked just like the bottle of the last Revlon polish I purchased, I was ready for a pretty pedi.
Price: $5.99 at drugstore.com
Color availability: According to the Revlon website, this is available in 32 colors. There were only four at my Walgreens, but it's a new product, so I'm hopeful that availability will increase. (The violet color I chose is really bright and perfect for spring.)
Quality of polish: Fantastic. This goes on just like the regular Revlon polish -- smooth, even, and with beautifully opaque coverage.
Quick dry capability: This wasn't as quick to dry to a perfect finish as the others, but within a couple of minutes it had at least dried to a point where I at least felt safe to walk around ... carefully.
Sally Hansen Insta-Dri, Jumpin' Jade and Uptempo Plum
This is probably the polish I was most excited about. I'm a big fan of Sally Hansen nail polishes -- I'm in love with both the HD High-Definition Nail Color (I have it in Lite, Hi-Def, and 3D) and Complete Salon Manicure (Commander in Chic is the perfect greige color -- I'm seriously digging it with this wintery weather).
Price: $5.44 on soap.com
Color availability: Excellent -- 32 gorgeous, rich shades.
Quality of polish: The polish itself is definitely a good quality, but the problem is the brush. Supposedly, the oversized brush makes for a super-fast, one-stroke application. In reality, however, it just means that polish ends up all over my fingers and pooled in the sides of my nails. Attractive, right? (Uhh, no.)
Quick dry capability: It's hard for me to say because the brush loaded the polish on so thickly that, I mean, of course it didn't dry quickly. Any time I saved was just used up in the shower as I scrubbed and peeled the excess polish off from around my nails. Such a bummer.
And there you have it -- Revlon Top Speed is my top pick, and if you can find the wet N wild fastdry in a color you love, grab it, but, if you have a little more skill with the brush than I do (and, if you're not a half-blind octogenarian with the shakes, that's totally likely), you might dig the Sally Hansen Insta-Dri. And leave the Maybelline Express Finish on the shelf.
Do you use quick dry nail polishes? If you have a favorite (brand, color, whatever), be sure to share it here. After all, I'm sure I'll be stopping in the drugstore sometime this month, and lord knows mama needs a new shade on her toes. (And no, it's not a problem. I can stop any time I want to. I swear.)
Kristen can also be found at Jeez-o-petes and on Twitter.
Photo courtesy of Jared Seymour.
This is an article written by one of the incredible members of the SheKnows Community. The SheKnows editorial team has not edited, vetted or endorsed the content of this post.
Want to join our amazing community and share your own story? Sign up here.