Now that your closet is clean (your closet IS clean, isn't it?), it's time to talk about basic wardrobing pieces. The basics are the building blocks of your wardrobe, essential pieces that you can mix and match with virtually everything else in your closet to create a look that will work every day. The basics are NOT a complete wardrobe by themselves, although you CAN wear them together; instead, think of them as a foundation that you can use to build a look that is distinctly yours.
Let's start with the most basic of basics: the white shirt and blue jeans.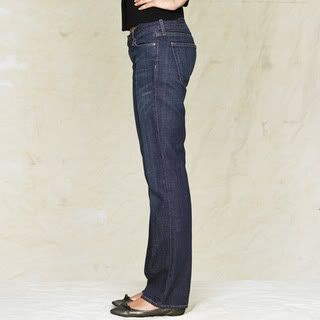 White shirt. The default is a traditional menswear inspired shirt, but if you're not a tailored sort, think outside the box. A white tunic is a good option, as is a short sleeved or sleeveless white shirt, both of which can be layered under a sweater or jacket in cooler weather. Instead of a button down or wing collar, look for a mandarin or Peter Pan collar, or one with a tie, or something with some ruffles. Or skip the collar entirely! Woven fabrics are crisper than knit fabrics, and can move easily from casual to more dressy. Keep embellishments to a minimum, as this is a foundation piece and not necessarily the focus of an outfit.
Jeans. Jeans are acceptable nearly everywhere these days, so it pays to have one pair that fits really well and is in great condition. The most versatile style is a boot-cut, which falls essentially straight from the thigh and flatters every shape. Unless you ALWAYS wear heels, opt for a pair that is hemmed for flats (the pants SHOULD touch the top of your foot but should NOT drag on the ground). Stick with a dark wash; launder inside out and hang to dry, to preserve the color. (Pictured: hip-slung jeans, J. Crew, $98.00.)
What ELSE do you Absolutely Need? That depends on what you will be doing all day. There is no ONE basic wardrobe, but there ARE some core pieces that can make your closet work for you on a typical weekday morning.
Tailored, neutral pants. Black is always good, but so are gray and brown and navy. Choose a classic cut that will outlast trends; you can always pair them with a funky top to bring them up to date. Chinos are great if your day requires machine washable pieces; a three-season wool is another great option for days when no one will use you as a napkin.
Tailored, neutral skirt. Again, black is fine, but think about other neutrals. An A-line is the most flattering, but a pencil skirt is also timeless. Denim, cotton, and three-season wool are all good options, again depending on what you will be doing all day.
Sweater in a flattering color. You can choose the style--turtleneck, crew neck, V neck, cardigan--and the color, BUT choose something that works with your current closet. Neutrals are fine but can be boring; instead, go for a color you love and that you will love to wear. And let me put in a good word here for cashmere, which is incredibly versatile AND easy to care for (DO NOT DRY CLEAN! hand wash in cold water and baby shampoo! yes really!).
Trench coat. A great trench is a simple way to finish any outfit. Again, a neutral color is versatile, but something bright will add visual interest to a basic outfit of jeans and a tee, or a pencil skirt and your white shirt. (Pictured above: trench from Gap.com, currently on sale for $58.00.)
What else? Well, what else is in your closet? Are you a fan of graphic tees? Wear them with the trousers. Twin sets? Pair with the skirts. Funky plaid capri pants? Get out the white shirt. Building a basics wardrobe doesn't mean tossing everything you currently own and replacing it with someone else's idea of what is stylish; it means building on well-made, classic pieces that will never go out of style. What you add after that is up to you. The goal is not to look like everyone else; the goal is to make getting dressed every day more fun and less work.
Coming Saturday: Accessories, or why you can NEVER have TOO many pairs of shoes.
Susan Wagner writes about fashion at Friday Style and The Working Closet, and about everything else at Friday Playdate. Her neutral sweater is a pale pink cashmere crew neck that she wears with EVERYTHING.
This is an article written by a member of the SheKnows Community. The SheKnows editorial team has not edited, vetted or endorsed the content of this post.
Want to join our amazing community and share your own story? Sign up here.