This is a compensated review from BlogHer and Adidas.
Casual wear can be tough, for men and women. Guys often get stuck at the shoe part of the outfit -- after all, most men own dress shoes and tennis shoes and very little in between. Help a guy (your brother or spouse or son or neighbor) out and steer him toward some cool athletic inspired shoes, for those in between occasions.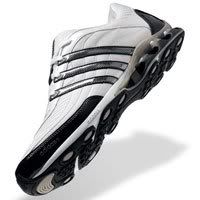 The Adidas Tech L2 is the perfect casual guy shoe; it's an athletic shoe, but not the kind you wear to the gym. This is a sporty casual shoe for the man who wants to wear something less than a dress shoe but more than his running shoes.
Or, alternatively, for the teen who doesn't realize that there are options like that.
The Tech L2 is a lightweight leather sneaker with patent detailing and before you say patent? are you kidding me? let me tell you that it's surprisingly cool on this particular shoe. These are athletic shoes for date night not for a day at the gym. The Tech L2 is lightweight and comfortable, and the white version has a cool urban hipster look that works well with jeans or shorts. And while this is imagined as a men's shoe, it would work as a casual woman's shoe, too -- again, pair with jeans or shorts or with tailored wool menswear trousers (why not!).
According to my tester (hi, Dave!) the Tech L2 is comfy but runs a little narrow, so keep that in mind. And at $75.00, this is a shoe for someone whose feet are not still growing. But for guys who need cool alternatives to Crocs or Birks for weekend, this is a worthwhile investment.
The Adidas Tech L2 is available exclusively at Famous Footwear; just now, it is out of stock online, but you can use the store's finder tool to locate a store near you. Call ahead to make sure they've got the shoe in stock -- but I've been assured that there's no shortage in the brick-and-mortar stores.
This is an article written by a member of the SheKnows Community. The SheKnows editorial team has not edited, vetted or endorsed the content of this post.
Want to join our amazing community and share your own story? Sign up here.