When I look at my friends' Facebook statuses and Twitter updates this time of year, I'm almost guaranteed to see some of them talking about the beautiful spring weather they're experiencing, some complaining about the rain, and some other poor saps sharing pictures of yet another snow storm. Oh, and a couple of show offs have to complain about it being too hot.
(Disclaimer -- on occasion, I might be one of those show offs. Sorry.)
But, when the calendar says April and sundresses are on full department store display, it doesn't matter how hot or cold it is outside -- everybody wants a little spring style in their wardrobe. And I've got five lovely looks that will work even for those of you who have a month or two before you can even consider wearing shorts.
Garden Splice Scarf, $38 at anthropologie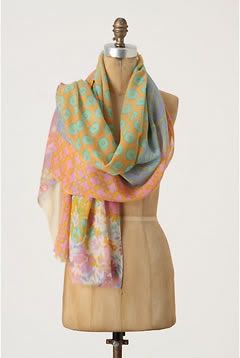 I saw this scarf in person the other day, and I kept being drawn to it. It's soft and subtle, but has an indisputably happy feeling about it -- with all the different types of flowers and spring-y designs, you can practically hear the birds chirping. And, it's a great value because, depending on how you tie it, you can display a totally different pattern and, therefore, a whole new look!
Rainyday Duffle, $148 at Boden
April showers, May flowers, you get the idea. The detatchable hood means this is far more than just a functional raincoat -- it's a great top layer to add color and a little whimsy to even the most basic outfit.
Dolce Vita for Target Rope Wedge Sandals, $29.99 at Target
A substantial sandal can be worn even if it's not 70 degrees and sunny, and at this price, you'll get your money's worth well before Memorial Day. Wear with a cropped or rolled jean now, and pair with a cotton or linen sundress later in the summer. But remember, with the rope detail, these shouldn't be worn during actual winter months -- spring, summer and fall only.
Hue Opaque Tights, $12.50 at Macy's
Try a pair of tights in a bright color to add a little excitement to a dark dress or skirt. If the tights pick up an accent color in your outfit, great! And if not, that's also totally fine -- just make sure you're not introducing too many different brights within one outfit. One tip I've picked up is that, if I want the look to be extra funky, I wear flats or a peep toe shoe with colored tights. If I want just a little pop of color, though, I wear bright tights with boots.
Ray-Ban Wayfarer in Purple and Green, $109.98 at Sunglass Hut
One of my all-time favorite ways to springify an outfit is to add fun sunglasses. Now, I love my big black glasses, and I wear them all year round, but spring is when I bring out the oversized white glasses or neon Frogskins. My next pair, however, might have to be Wayfarers, and not just any Wayfarers, but these. The dark purple gives a subtle punch, but the interior pattern makes them pure springtime fun.
Image courtesy of anthropologie.
Kristen can also be found bragging about the sunny Florida weather and the cute things it allows her to wear on Twitter and at Jeez-o-petes. (In about six weeks, however, she'll be crying about the heat and humidity, so it all evens out. Honest.)

This is an article written by a member of the SheKnows Community. The SheKnows editorial team has not edited, vetted or endorsed the content of this post.
Want to join our amazing community and share your own story? Sign up here.