100% certified natural skin care!
Enter now for a chance to win a set of four Weleda body lotions!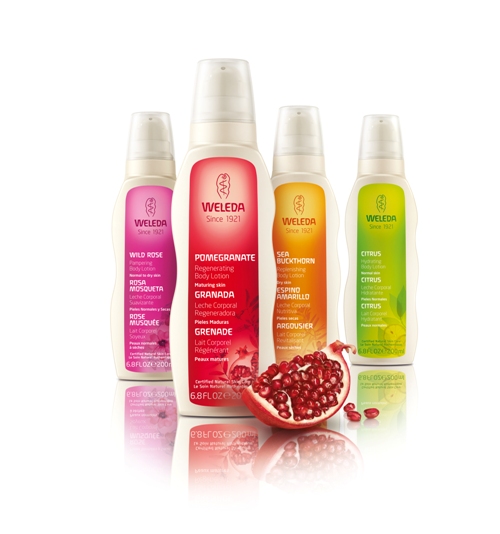 Leveraging 90+ years of deeply rooted skincare heritage, Weleda, the pioneer of 100% certified natural skin care made with, organic and Biodynamic ingredients, proudly introduces four new, exhilarating body lotions to stimulate the senses and nurture every skin type. Each product is developed around a lead plant that stands as the symbol for its product line and has been selected for its own extraordinary healing abilities to target specific skin types and needs.  Citrus, Sea Buckthorn, Wild Rose and Pomegranate, serve as the lead plants in these dermatologically tested, oil-rich, long-lasting formulas that work to maintain, hydrate and restore skin's natural balance for radiant skin. Weleda's new Body Lotions also utilize a new Bag in Bottle (BiB) technology, and an airless, neutral dispenser design to protect the formula from discoloration, clumping or clogging and extend shelf life.
One lucky winner will receive one 6.8 oz bottle of the following lotions: Weleda Citrus Replenishing Body Lotion, Sea Buckthorn Replenishing Body Lotion, Wild Rose Pampering Body Lotion, and Pomegranate Regenerating Body Lotion.
Weleda body lotions can be purchased at http://usa.weleda.com
Like Weleda on Facebook!
Follow Weleda on Twitter!
Enter now for your chance to win!
Entries are unlimited.