A revolution in scar treatment!
The doctor's answer to scars is now availiable to you - without prescription!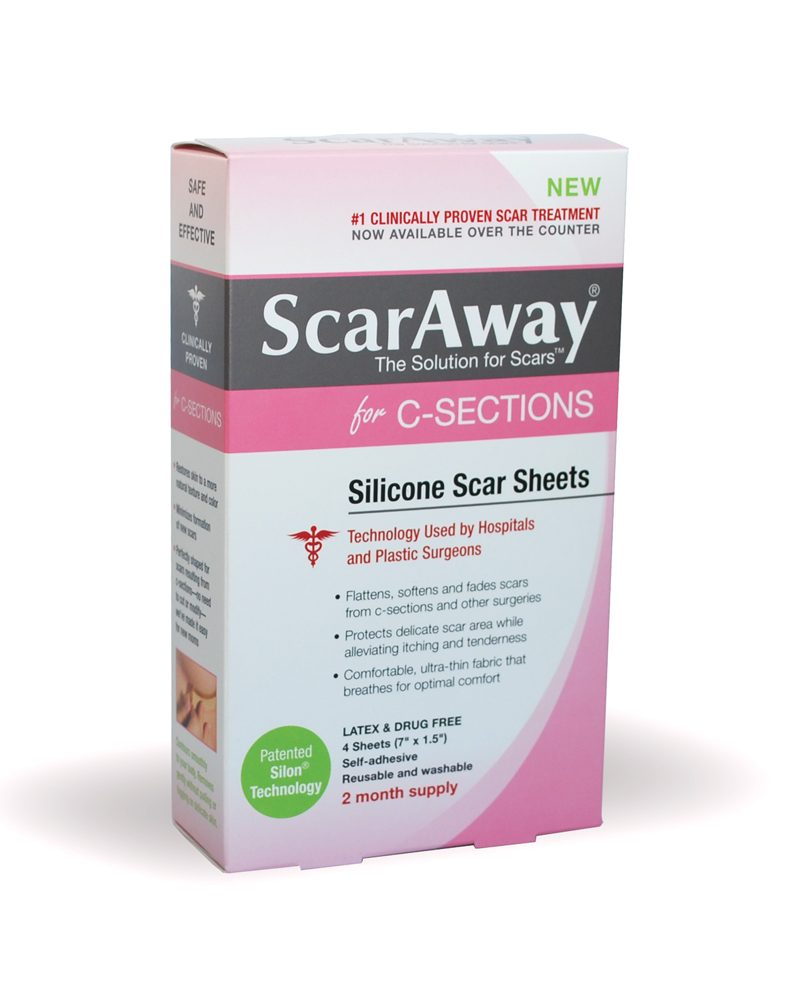 Currently, every 1 in 3 women have a C-Section when they give birth and they are left with a 4 to 6 inch scar that will far outlast those post-partum sleepless nights. But the good news is, now women can control how that scar will look. New ScarAway C-Section Silicone Scar Sheets offer an effective drug-free, over-the-counter method to effectively fade, flatten and shrink hypertropic (raised) and keloid surgical scars (safe for nursing mamas).  Specially sized at 1.5" x 7" to fit over C-section scars, they use advanced, patented silicone technology previously only available through hospitals, burn centers and plastic surgeons. They sheets are unique for their silky-soft fabric backing for optimal comfort and protection, and they are opaque, so they conceal the scar while they heal.
ScarAway can be used on any skin tone and on scars that are old or new, as soon as skin is healed, and may also be worn under compression garments. A softening of the scar may be felt in just days, with visible results in just weeks.  Optimal results are achieved in about 12 weeks. Available online at Amazon.com, Scar-Treatment.com, IntoMyHealth.com and Buy Buy Baby stores nationwide.
Enter now for your chance to win the ScarAway C-Section Scar Sheets Giveaway!
Entries are unlimited. 
Check out more SheKnows Giveaways!