BATHE IN BEAUTY!
Give your skin what it deserves with OLIVITA Artisan beauty soaps!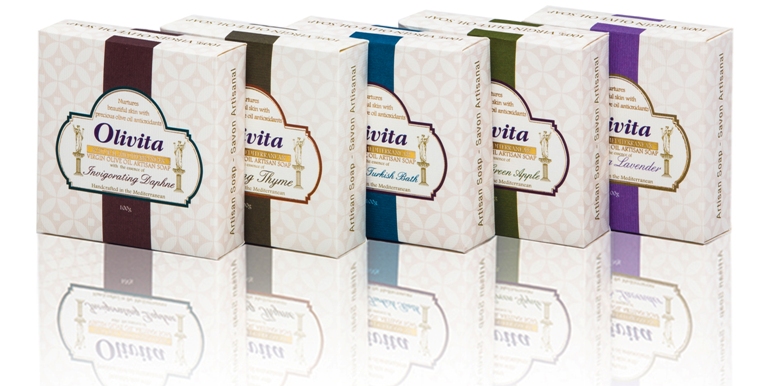 Stresses of life could have you feeling like you need to get away! Relax and indulge yourself in products from OLIVITA Artisan, virgin olive oil based beauty bars and personal care products from the ancient Ephesus region of the Mediterranean. This is especially for those who have dry skin or love 100% vegan and natural products. These products will leave your skin feeling soft and smooth like a baby's bottom! Give your skin what it deserves! OLIVITA Artisan beauty soaps naturally removes the daily accumulation of dirt and excess oils without harsh irritating chemicals. OLIVITA Artisan is a promoter of a healthy Mediterranean lifestyle. No more dry skin, OLIVITA Artisan will help you flaunt the skin you're in. Learn more at www.olivitasoaps.com.
OLIVITA artisan soap and personal care products made only with virgin olive oil. OLIVITA cleanses gently and hydrates the skin, without blocking its pores, which makes it suitable for baby skin.
100% saponified virgin olive oil softens, moisturizes, nurtures skin with antioxidants, best natural ingredient for your skin
Moisturizes and replenishes skin with olive oil antioxidants vitamin E, Beta Carotene and vitamin K
Contains squalene, which has the ability to regulate the secretion of sebum and prevent skin problems
Comes in silky texture that easily lathers at room temperature, resulting in rich lotion like cleansing foam
Leaves a highly moist, velvet like skin after each wash
Recommended for all skin types
Is hypoallergenic
100% Vegan, 100% Cruelty-Free, 100% Natural
NO GMO's NO artificial fragrances or colorants
NO Parabens
Follow OLIVITA Artisan on Twitter @OlivitaSoaps
"Like" OLIVITA Artisan on Facebook
Check out OLIVITA Artisan on Pinterest
 Purchase at http://olivitasoaps.com/shop/